Anyone Looking For An UnBEARably Cute House Guest? Adorable Orphan Polar Cub Hunting For A Home!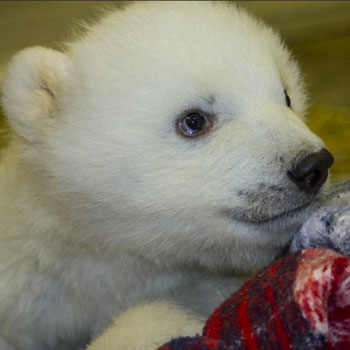 Article continues below advertisement
The beautiful ball of fluff is currently considered a "transient" by the U.S. Fish and Wildlife Service, and "it's still unclear where he'll go. That process (of determining where he'll go next) has yet to begin," explained spokesman Bruce Woods.
Kali - pronounced "Cully," after the the Iñupiaq Eskimo word for Point Lay – lost his mother to either a subsistence hunt or a legal shooting in self defense or in defense of property, according to an on-going investigation by the USFWS.
After the little lost cub was saved from life in the wild on his own on March 12, he was delivered to biologists with the North Slope Borough before making the 725 mile journey south to Anchorage to be temporarily cared for by the Alaska Zoo.
Despite his ordeal, Kali appears to be doing well and enjoying the attention, "eating enthusiastically, which is always a good sign. I've heard nothing that indicates there's anything wrong with him," said Woods, adding that he is not currently on public view.
The zoo already has two other polar bears so they sadly can't keep the currently 18-pound cub when he is fully grown.