Doggone Cute…And Hot! Tom Hardy Gets Cozy With A Pooch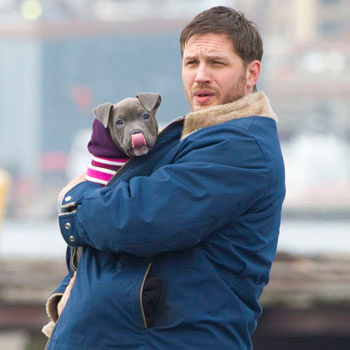 Nothing like a little puppy love!
Warrior star Tom Hardy showed off his softer side on Monday, hamming it up for the cameras with an adorable puppy on the set of his latest film, Animal Rescue, in Brooklyn – and RadarOnline.com has the super cute photos.
The British hunk, who clashed with Charlize Theron on the set of Mad Max: Fury Road last year because the actress was driven crazy due to his method acting technique, clutched onto a blue pit bull puppy as he walked alongside the river.
Article continues below advertisement
Animal Rescue, also starring Noomi Rapace, is a crime drama that centers around a lost pit bull, a wannabe scam artist, and a killing, according to the film's IMDB page.
Hardy blasted gay rumors in 2011, after he claims he was misquoted by Attitude magazine in 2008 about experimenting sexually with men, when he was in fact referring to movie roles.