Exclusive
Katherine Jackson's Wrongful Death Lawsuit Suffers Major Legal Setback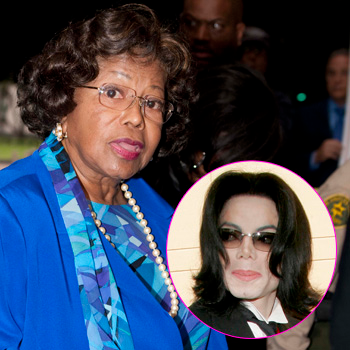 Katherine Jackson's suffered a huge legal setback this past week in her wrongful death lawsuit for her son Michael Jackson when a California court dismissed all of her claims against AEG and its President Tim Leiweke RadarOnline.com is exclusively reporting.
Additionally all but one of her claims against the remaining defendants were dismissed and the California Court of Appeals ordered Michael's medical records unsealed.
Article continues below advertisement
DOCUMENT: AEG Files With Court Of Appeal
Those remaining defendants have filed legal documents with the Court of Appeal in California to dismiss that one remaining claim on the question of whether AEG Live negligently hired Dr. Conrad Murray, Jackson's long time personal physician. Murray was convicted in 2011 of the involuntary manslaughter death of Michael Jackson after administering a fatal dose of propofol to help the pop singer sleep. Murray hadn't signed formally signed his employment contract with AEG at the time of Jackson's death.
In response to the filing, the Court of Appeal indicated that it would be unsealing certain records of the late pop singer, including Jackson's medical records.
In court documents obtained by RadarOnline.com, AEG Live asserts, "absent this Court's immediate intervention, defendants will shortly begin a long trial based on the trial court's fundamental misapplication of California law. Plaintiffs seek more than $40 billion in damages from defendants arising from the 2009 death of pop music star Michael Jackson....On February 27, 2013, Respondent Court summarily adjudicated all of the Jackson's claims except negligent hiring....Specifically, Respondent Court held that there was a triable issue of fact as to whether AEG Live should have suspected Dr. Murray "may compromise his Hippocratic Oath" because Dr. Murray was in debt, and because Mr. Jackson was known to have had a prior problem with painkiller abuse. Respondent Court provided no explanation as to how such knowledge would have made it legally foreseeable that Dr. Murray would administer a fatal dose of anesthesia to Mr. Jackson in his home for sleep."
Article continues below advertisement
When contacted by RadarOnline, com, Marvin Putnam, attorney for AEG Live responded, "The Court of Appeal rarely grants these extraordinary requests, although I am confident, whether before or after trial, that the courts of this state will find the law does not allow Mrs. Jackson's claim. Any other outcome would wreak havoc on California's business community."
If the case does proceed to trial, Putnam told us, "AEG Live had no idea Jackson was looking for a doctor to give him propofol or that Dr. Murray had agreed to provide the dangerous drug to him. Mr. Jackson's death was a horrible tragedy for which AEG Live is simply not responsible."
Murray is going to be deposed on Monday, March 18 at the Los Angeles County Men's Central Jail in connection with Katherine's wrongful death lawsuit.
The trial is expected to begin on April 1.