Matt Lauer's Next Job In Jeopardy?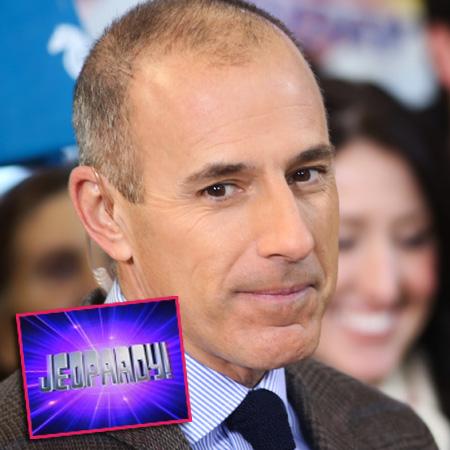 As reports surfaced he was leaving the TODAY show after a year of declining ratings and a beating to his image, insiders said Matt Lauer was being evaluated by Sony Pictures Television executives as a possible replacement for Alex Trebek on the iconic game show Jeopardy!.
The 76-year-old Trebek (who had a heart attack last summer) is expected to retire in two years, and Matt's contract with TODAY runs out next year, setting up a convenient timeline for the potential personnel switch. Anderson Cooper's name has also been bandied about for the gig, sources told the NY Post.
Article continues below advertisement
Lauer, 55, "likes the idea" of hosting the quiz show, sources told the paper, noting a much lighter schedule and Meredith Vieira's successful run as host of Who Wants to Be a Millionaire.
The insider said that it would be about a year-and-a-half until the ultimate decision who Trebek's successor would be, and "in this business, that's a lifetime."
As we previously reported, Lauer, speaking at the New York Upfronts Thursday, pledged to keep working hard to reverse TODAY's ratings slide, as it's been beaten by morning rival Good Morning America for 29 consecutive weeks.