'Madonna Doesn't Care If I'm Dead Or Alive,' Claims Homeless Brother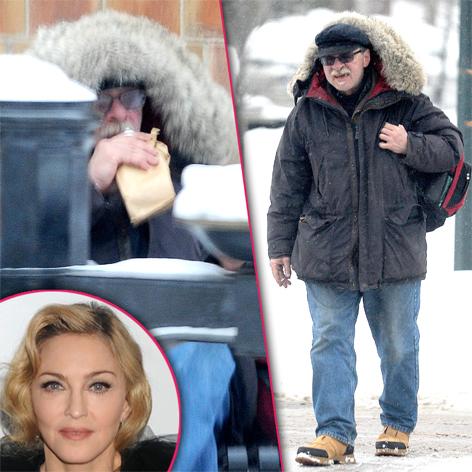 As Madonna celebrates being crowned the first billionaire pop star and the best selling woman rock artist of all time, one of her brothers remains destitute and homeless on the mean streets of Traverse City, Michigan.
Anthony Ciccone has been homeless for three years sleeping under bridges and drinking cheap booze from a paper bag in freezing 14 degree Farenheit temperatures, claiming that his world famous sister doesn't care if he lives or dies.
Article continues below advertisement
The 56-year-old's dire situation went from bad to worse recently when he was arrested intoxicated in a church and swearing in front of children, reported the Mail Online.
"Madonna doesn't give a s**t if I'm dead or alive. She lives in her own world," Ciccone angrily told the Mail.
"I never loved her in the first place, she never loved me. We never loved each other. My father would be very happy if I died of hypothermia and then he would not have to worry about it anymore. He's old school, he grew up in the depression," he went on to reveal.
"He doesn't want to be bothered, he's lived his life you see. He doesn't like me. He doesn't want me to be me, he wants me to be somebody else. He thinks the way I live is intentional. He simply doesn't know me."
The street dweller blames his sorry state on a lack of support from his former loved ones, "When the chips fell, no family back-up. I'd rather be working. What would you do under these circumstance when your family has stood against you completely?" he asked rhetorically.
Article continues below advertisement
While his current situation suggests otherwise, the oldest of the eight siblings, who used to work at the Ciccone family Vineyard but was shunned because of his affection for drinking the product, denies that he has an alcohol problem.
"I'm a human being, you can call me what you want. Alcoholic is a label, I don't like it. I don't need brain surgery, I merely need love and care of family and friends," he slammed.
According to the Mail, both father, Tony Ciccone and Madonna have both paid for Anthony to go to rehab on separate occasions but it didn't work and he now refuses to go back, despite recently losing his best friend to the bottle when he "drunk himself into oblivion" and fell down some stairs to his death.