Lindsay Lohan's Not Paying Her Attorney A Dime! Mr. Pink Picking Up Legal Tab, Says Her Father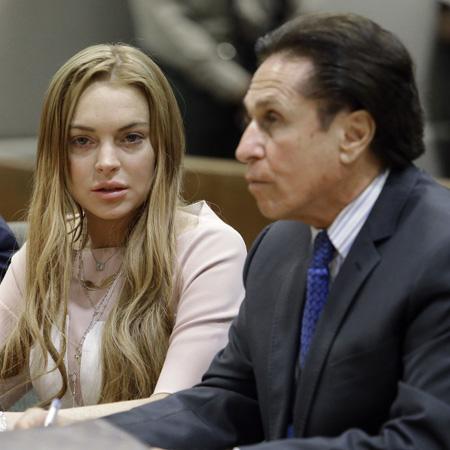 Lindsay Lohan's abrupt lawyer switch in the middle of her most recent legal troubles had many questioning the sanity of her decision, but her father Michael Lohan exclusively told RadarOnline.com that the reason she ditched her legal ace Shawn Holley was a manipulated financial decision!
As RadarOnline.com previously reported, Lindsay, 26, owes Shawn a whopping $300,000 in unpaid legal bills, and with her acting jobs few and far between, her chances of paying that off were slim, until her gracious benefactor stepped it.
Article continues below advertisement
"This was a business deal for the Hellers, not a case of proper legal representation," Michel explained, and said he believes his daughter is getting taken advantage of.
"They played Lindsay like a puppet on a string like they do everyone."
Michael has been an outspoken critic of the legal advice Lindsay has been receiving from Heller, and he slammed her financial arrangement with him further.
"She used Heller because she got paid to BE represented, while having all her expenses paid for and then being told by her attorney that she had deals, like house arrest that were never even an option. Instead, it was all just bait to keep the Hellers on board.
"Michael Heller arranged to use Lindsay's court case to endorse Mr. Pink. Lindsay got paid, Michael Heller got his cut and Mark Heller, daddy dearest, got paid too."