Kim Zolciak Fights Back Against 'Real Housewives Of Atlanta' Star's Lawsuit: 'It's Full Of Lies'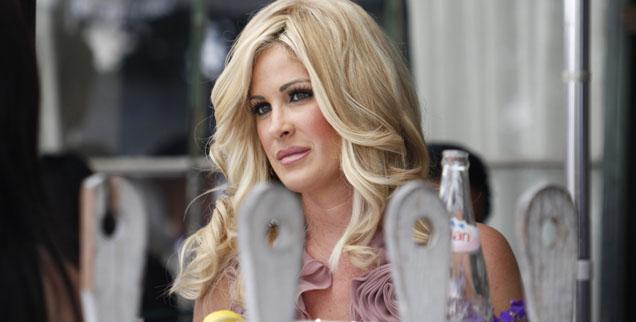 Don't expect this lawsuit to be settled amicably.
Kim Zolciak is letting the world know she's more than ready to fight now that former Real Housewives of Atlanta costar Kandi Burruss has filed a lawsuit against her, RadarOnline.com is reporting.
Burruss sued Zolciak for copyright infringement over the song Tardy For The Party. And as RadarOnline.com reported exclusively, Burruss will be represented by ANOTHER costar, Phaedra Parks.
Article continues below advertisement
But Zolciak is ready for the battle and after finding out about the legal action said the lawsuit is "full of lies and malicious."
Yes, those are fighting words!
"If I owed her money, why did she do another song," Zolciak said, as people questioned her about the lawsuit on Twitter.
She also claimed: "Kandi tried to pull the song down in Dec on iTunes but after I showed documents and proved points song was immediately put back up."
Meanwhile the Real Housewives of Atlanta reunion show was shot this week – with Zolciak -- and those involved say there was plenty of drama!
No word yet if the lawsuit was discussed but Zolciak has already called it a "publicity stunt" and said she finds the lawsuit "funny yet sad."
She told one Web site: "Coming after me now and this song is 4 years old? I have in fact overpaid Kandi and have documents to prove it and my legal team will handle this accordingly."
MORE ON:
Celebrity Justice
Article continues below advertisement
Burruss has previously said she expected to split the royalties from the song evenly.
"Mind you I wrote it, pulled in the people to get the music done, gave her free studio time, produced her vocals, etc. with no upfront fee," Burrus wrote about the situation.
PHOTO: Kim Zolciak Strips Down For A Cause
"So I thought, 'Cool, we can split the royalties equally, and it's all good.' I didn't know if the song was going to make money or not, so I definitely didn't want to charge her all this money upfront not knowing if she would make any. As a friend I wouldn't do that. If it's just business I don't care, but it wasn't just business.
"So when the money first came in, Kim gave me a check of a third of the money she had received at that point. Everything was cool, but then she came back to me a week later saying she was all upset because her attorney said she shouldn't have to pay me on the overall royalties, and that she should just pay me on part of the publishing royalties. She asked me for her money back. It kind of came off like she felt I was taking advantage of her. So it irritated me."
Burruss also claims the deal to split the royalties was verbal.
Now she's saving her argument for court.