Exclusive
'Real Housewives Of Atlanta' Stars Battle In Court: Kandi Burruss Sues Kim Zolciak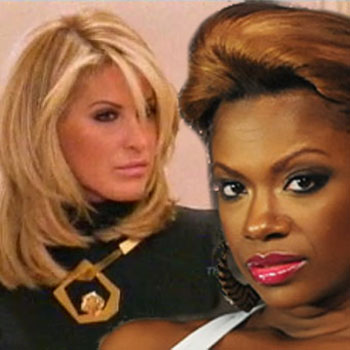 Talk about reality TV drama!
As if things weren't hot enough on the show, now three stars of The Real Housewives of Atlanta are fighting in the legal arena.
Kandi Burruss has filed a lawsuit against ex cast member Kim Zolciak over the hit song, Tardy For The Party , alleging copyright infringement.
To make matters even more contentious Phaedra Parks is representing Burruss, RadarOnline.com is exclusively reporting. They didn't get along previously and they sure aren't going to become friends now!
Article continues below advertisement
DOCUMENTS: Kandi Burruss Sues Kim Zolciak Over Song Tardy For The Party
The lawsuit was filed in Atlanta, on March 12, and contends that Burruss wrote Tardy for the Part for Zolciak. According to the court documents: "Without Plaintiffs' authorization, license or consent, Plaintiffs' Sound Recording embodying a performance of Plaintiffs' Composition was commercially released as a single record... on or around, September 29, 2009 by Defendant TuneCore in agreement with Defendant Zolciak.
"Defendants marketed and sold the Infringing Single in various formats (e.g., compact disc, downloadable audio track, DVD, etc) and through various websites, all without Plaintiffs' license, consent or authorization."
Fellow songwriter Rodney Richard is also suing Zolciak.
The suit also seeks an accurate accounting of the money Zolciak made from the sale of the single.
The dispute about the song was previously featured on the TV show. And on October 13, 2010 Burruss wrote about the situation in a blog on Bravo's Web site. "I hardly got anything from Tardy for the Party. That is the truth," she wrote. "I am not mad about it. I really blame myself because I didn't handle my business correctly."
MORE ON:
Celebrity Justice
Article continues below advertisement
Well, it appears that she's changed her tune and if she's not mad about it, she's decided handling her "business correctly" means taking it to court!
Burruss wants a temporary restraining order issued immediately to prevent future sales of the single, an order requiring "destruction of all copies of the Infringing Single and any other product of Defendants that infringe Plaintiffs copyrights."
The plaintiff's also are seeking punitive damages, attorneys fees, and a jury trial.
Kandi's new show debuts on Bravo soon.