'Fed Up' Kim Kardashian Accuses Kris Humphries' Camp Of Leaking Damaging Deposition About Faked Scenes On Her Reality Shows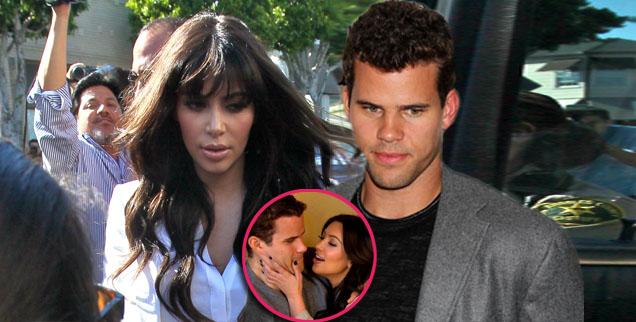 Kim Kardashian is fuming, as she believes Kris Humphries' team -- in an attempt to illustrate how Kim only wed the NBA star as a publicity stunt -- leaked sworn testimony from a deposition related to their upcoming divorce trial that claims her reality show is scripted and that she cries on camera with the aid of a tear stick.
Thursday's New York Post reports "Kim is fed up with the courtroom tactics of her estranged husband…"
Article continues below advertisement
This comes on the heels of Life & Style's report that Keeping Up With The Kardashians producer Russell Jay said in a Feb. 4 deposition that there was a re-take when Kris famously proposed to Kim on camera, as "she didn't like how her face looked in the first take."
In addition, the magazine reported that Kim shot a scene complaining about the state of her marriage AFTER the couple's infamous split on Halloween 2011.
"This is normal operating procedure on any reality show," an insider told the NY Post. "None of this shows fraud, which is what Kris is trying to prove.
"His entire case is based on the premise that he is the stupidest person on the planet," the insider said, adding that the Brooklyn Nets forward isn't even interested in getting paid, but rather "just trying to make her miserable."
As RadarOnline.com previously reported even more distressing to Kim is that she's slated to be deposed in the case in two weeks at her lawyer Laura Wasser's office.
"It's scheduled to take all day and Kim has been dreading it," a source exclusively told Radar.
As we previously reported, an insider told us that Kim and show's producers "set Kris up to look like a jerk" on her show throughout the course of their 72-day marriage.
"Anyone who loves someone," the insider said, "would not team up with their production team to make them look like a fool on TV."
If the duo cannot come to some resolution, the case will advance to trial on May 6.