Cate Edwards 'Devastated' When Father John Admitted He Cheated On Her Mother Elizabeth With Rielle Hunter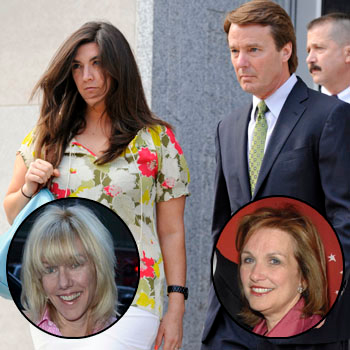 When Cate Edwards found her father John Edwards was cheating on her beloved mother Elizabeth Edwards she admits she was "devastated" by the news.
The poised daughter of the disgraced former senator said that he admitted to his oldest daughter that he had had an affair with Rielle Hunter, with whom he fathered an illegitimate daughter named Quinn.
"I guess he and my mom decided that that was, you know, how it needed to be done. So yeah, I was devastated. And I was disappointed. I mean, these are my parents. I had grown up with a lot of love in my family. And it was hard to see them go through this," Cate told Savannah Guthrie in an interview that will air on TODAY on Friday.
Article continues below advertisement
Guthrie asked if she was mad about the affair, and Cate, 31, replied: "Yeah, yeah, of course."
She said that she met Rielle during her father's campaign, when she was his videographer, and gave a dignified response when asked about the "pretty unpleasant things" Rielle wrote about Elizabeth Edwards in her book, What Really Happened, John Edwards, Our Daughter and Me.
"I just thought it was — I thought it was a poor choice, I guess, is all I can say."
Cate spoke fondly of her mother, who passed away after a brave struggle with cancer in 2010.
"I miss her in sort of big ways and small ways," she said.
"You know, it's big things that go by, like my wedding. She wasn't able to be there. But we got to talk about it. And I felt incredibly lucky that I got the chance to even have that conversation with her.
"And I sort of carried out some of her vision which was great to sort of feel her presence there even though she wasn't actually there. And then there are small things. I mean, I get away with bad grammar. I never used to get away with bad grammar."