Feuding In the City! SATC Creator Bites Back At Sarah Jessica Parker Over The Carrie Diaries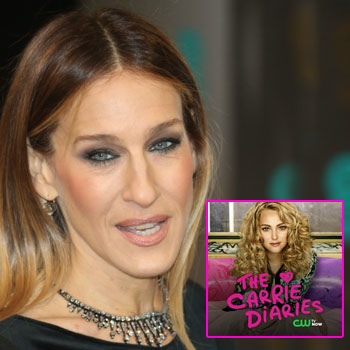 Once the apple of Sex And The City author Candace Bushnell's eye and the star of both the big and small screen adaptations of her books, Sarah Jessica Parker has now earned the writer's wrath after criticizing her latest project.
Bushnell's literary work returned to TV in January with the SATC prequel, The Carrie Diaries, airing on the CW Network, but Parker is far from impressed with how the character that made her famous is being portrayed.
Article continues below advertisement
"I'm not sure… You know, I think it's one of those tests of your generosity," the actress told Net-a-Porter's The Edit. "She AnnaSophia Robb, who plays Bradshaw is a lovely girl and I want her to feel good about it, but it's…odd."
Not surprisingly, Bushnell did not take kindly to her latest protégé and her young adult novel series being criticized and bit back at the 47-year-old star.
"The reality is, that's showbiz. Sarah Jessica's first part was somebody else's part," she told The Daily Beast. "She played Annie on Broadway. She understands how these things work."
Bushnell went on to serve up the sad news to fans that she doesn't think there should be a third SATC movie because Carrie and her crew had gotten too stuck "doing what the audience wanted."
"Realistically, a middle-aged woman who was married without children would be much more focused on her career and less focused on this Mr. Big: 'Does he love me?' ... 'Does he still not love me?'" she explained.
"I mean, I think it was coming to the end of what they could do with the character."