Sex And The City Author Lists Her Fabulous New York Apartment: Take A Peek Inside!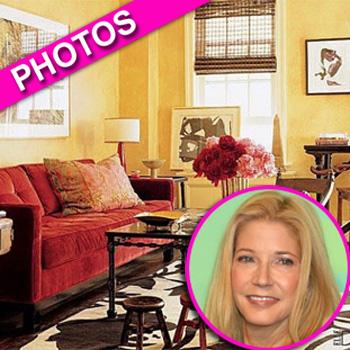 By Debbie Emery - RadarOnline.com Reporter
Candace Bushnell is the literary voice behind New York's most famous female foursome, and now the Sex And The City author is leaving the city that made her a millionaire by listing her Manhattan apartment for $2.8 million.
Decorated in an eclectic style that would certainly appeal to Carrie Bradshaw, the 2 bedroom and 1.5 bathroom home is located in the trendy Greenwich neighborhood where it is easy to imagine the girls strutting down the tree-lined streets in their Manolos.
Article continues below advertisement
Featuring a blend of Asian-inspired and European decor, the co-op has floor-to-ceiling windows that keep the space filled with light, and inlaid wood flooring, a sunken living room and wood fireplace.
"I love crystal chandeliers and gold leaf, velvets and mirrors, oriental rugs and marble," Bushnell wrote in Elle Decor in 2005, where she described how she transformed the apartment from a "wreck" to a livable space.
"I love things that are old and glittery, that come with layers of glamour and past lives," she revealed.
Bushnell bought the home with her now ex-husband, Charles Askegard in 2005, but when the writer and the male ballerina split up last December after he reportedly had an affair with another dancer, she decided it was time for a change of scenery, reported the New York Daily News.
Selling her apartment marks another departure by Candice from the iconic chick lit series, as star Chris Noth (aka Mr. Big) lives in the same building from which she will be moving out.