Denise Richards Gets Threatening Letters After Charlie Sheen Goes Public With Bullying School Vendetta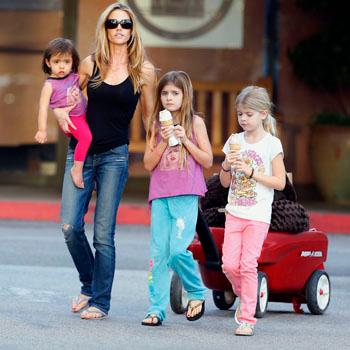 Denise Richards has received several threatening letters after her ex-husband, Charlie Sheen, went public last week and began waging a vendetta against the former school of their two daughters, Sam, RadarOnline.com is exclusively reporting.
"It was a very long weekend for Denise and the girls in the aftermath of Charlie's Twitter tirade, in which he encouraged his Twitter followers to send dog poop to Sam's former school," a source close to Sheen told RadarOnline.com exclusively.
Article continues below advertisement
"According to Charlie's public comments, Sam was bullied, and Denise pulled both daughters out of the school last year. Denise got several threatening letters, and Charlie is telling his friends that he suspects they are from parents at the private school. Charlie and Denise live in the same gated community in Southern California, and some of their neighbors have children who go to their daughters' former school. Several parents have told the former couple that they pulled their children from the institution because they experienced the same thing Sam did. The threatening letters are being dealt with and will be turned over to law enforcement if necessary," the insider added.
As RadarOnline.com previously reported, Sheen went on a Twitter tirade, last Thursday encouraging his legions of faithful followers to send dog poop to the school.
The Anger Management star also ranted about how Sam was "bullied out of Viewpoint school and then called a liar," and he claimed a classmate, Victoria, was responsible for making his daughter's life a living hell.
The Calabasas private school issued a statement following Sheen's accusations, saying: "The parent of a former Viewpoint School student who has not attended Viewpoint School since March 2012 has made certain accusations in the media. Our administrators addressed the issue appropriately last year. Our School takes accusations of bullying very seriously. For over 50 years, Viewpoint School has provided a safe and nurturing environment for our students to thrive, and we will continue to do so."
The James Bond hottie wishes Sheen hadn't gone public with the private family matter, but "knows Charlie's heart was in the right place, but unfortunately when he acts like a child there are consequences that ripple down to their kids," our source explained.
The girls "are being protected from all of this drama and controversy. They are absolutely flourishing in their new school. Sam is absolutely the sweetest little girl, and is now thriving. There isn't anything Denise wouldn't for her three daughter," the sourceadded.