Exclusive
Shut Up, Matt! Ann Curry Wants Lauer To STOP Talking About Her!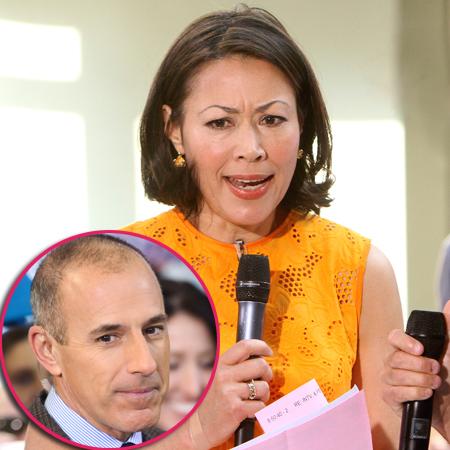 Ann Curry feels betrayed by NBC and Matt Lauer once again, after her former morning news colleague revealed he wanted Katie Couric to come back to the TODAY show, and she just wants him to stop talking about her, RadarOnline.com is exclusively reporting.
Earlier this week, Lauer admitted in a rare interview with the Daily Beast that Curry wasn't his first choice to replace Meredith Viera, and that he actively lobbied for Katie Couric to rejoin TODAY. The two engaged in top-secret discussions milling over a variety of ideas, including Couric's possible return to TODAY, while the two prepared to team up on a syndicated daytime show. Complications with a joint syndicated show prevented that from happening, and Couric eventually signed on with ABC.
Article continues below advertisement
"Ann just wants to move on from her disastrous departure from TODAY, and she has. However, she isn't allowed to give any media interviews without approval from her bosses at the network. Ann was infuriated by Matt's interview. The network has said from the onset of Ann's demotion from the show that Matt had no power over the decision. Yet, in the same interview he admits to talking to Katie Couric for over a year in a bid to bring her back! Clearly, Matt has a lot of clout to be engaged in high level talks of a potential hire! It's just another slap in Ann's face," a source told RadarOnline.com exclusively.
TODAY, after a 16-year lead over Good Morning America, fell to number two behind ABC's popular morning show last year, and the gap has only widened between the programs: During the week of February 25, GMA drew 5.8 million viewers to TODAY's 4.8, and beat them in the coveted 25–54 demo.
Particularly bothersome to Curry "is the public support being given to Matt Lauer from the network brass at NBC. She just hasn't had that at all. Ann was fired from the show and essentially sent off to Siberia. Ann's on-air time has been drastically slashed. She knows that NBC has no plans to let her out of her contract, and so she will just try and make the best of a bad situation," the insider added.