Peek-A-Boo, We Can See You! Amanda Bynes Wanders Around New York With Shirt Over Her Head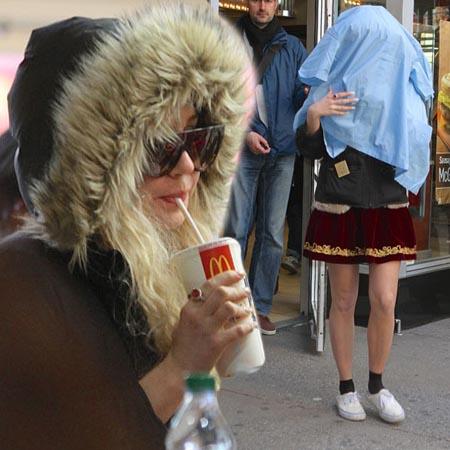 After wearing a blonde wig and piercing her cheeks troubled actress Amanda Bynes continued her bizarre behavior by sporting a new look while walking around New York this week.
The former child star was snapped covering her face with a blue shirt and RadarOnline.com has the troubling pictures.
Amanda, 26, was seen coming out of a McDonald's in Times Square on Tuesday wearing a red and gold mini skirt, a black jacket, white tennis shoes and black nylon socks.
Article continues below advertisement
She seemed to be trying to hide her identity by covering her face with a shirt.
A source explained her odd behavior, telling Us Weekly that the actress looked like she was "pretending to be a ghost." Another eyewitness said Amanda was reportedly "walking into things because she couldn't see."
While in McDonald's the actress apparently ordered a coffee and a soda and sipped both at the same time.
Earlier on Tuesday Amanda snapped a photo of herself wearing a blue shirt and wrote: "Uh oh! Stained my shirt while getting ready…grrrrrrrrrr!"
As RadarOnline.com previously reported, Amanda told her Twitter followers recently that she planned to lose 20 pounds off her already slim frame in a bid to hit her goal of 100 pounds.
On Thursday morning she tweeted: "It doesn't matter what you think about yourself. All that matters is what your lover thinks of you."