Tim Tebow Agrees With My Anti-Gay Views, Says Pastor, Who Claims QB Canceled Appearance Only Due To Controversy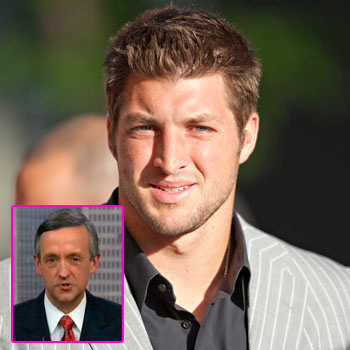 Tim Tebow agrees that "gay is not ok," according to controversial pastor Robert Jeffress, who claims the quarterback canceled a speaking engagement at his church only to avoid controversy right now.
Tebow was scheduled to be at the opening of the First Baptist Church's new building in April but he canceled after much negative press about the pastor's anti-gay views and other controversial remarks.
"While I was looking forward to sharing a message of hope and Christ's unconditional love with the faithful members of the historic First Baptist Church of Dallas in April, due to new information that has been brought to my attention, I have decided to cancel my upcoming appearance," Tebow, a devout Christian, tweeted Thursday.
Article continues below advertisement
But Jeffress told the Daily Beast that Tebow contacted him several times and made it clear he was canceling only because the NFL quarterback is trying to avoid controversy right now – not out of disagreement with the pastor's views. Tebow spent last season with the New York Jets and his future in the league is in doubt.
According to the Daily Beast:
"Tim is a member of a Southern Baptist Church, the First Baptist Church of Jacksonville, Fla., that believes exactly what we believe about those issues, and Tim affirmed that that is what their church believes," Jeffress said. "So I think Tim was probably speaking the truth when he said it wasn't the belief of our church—it was the controversy surrounding his appearance."
Jeffress also told the Daily Beast that Tebow texted him at nearly the same time the former Heisman Trophy winner sent out his tweet distancing himself from the church. According to Jeffress, Tebow said he had been advised by people around him "that he needed to go ahead and not come and he was going to stick with that decision."
The Daily Beast also reported:
"He said that because of professional and personal reasons he needed to stay away from controversy right now, so he would not be able to come," Jeffress told The Daily Beast on Thursday afternoon. "But he also voiced that he would like to come at some future date in our church."
Jeffress once gave a sermon titled "Gay Is Not OK" and has denigrated other religions, and been called anti-Semitic. Jeffress told the Daily Beast that he and Tebow also spoke by phone and the QB said he would reconsider his cancellation.
The Pastor's account sharply differs in tone with the impression Tebow has created of distancing himself from the church's message and Jeffress did not express anger with the athlete, but made it clear they believe in the same things.