Exclusive
Don't Take The Bait Mate! Harry Styles Told 'Don't Retaliate' Against Taylor Swift's Grammys Jibe!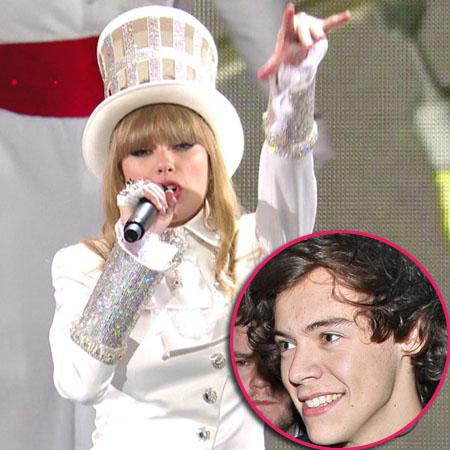 Despite Taylor Swift's blatant attempt to rile her latest ex-boyfriend, Harry Styles, during her Grammys performance Sunday, the British singer's One Direction bandmates have warned him not to retort to the country singer's jibe, RadarOnline.com is exclusively reporting.
Harry has no doubt that Taylor, 23, was taking a shot at him when she started singing in a cringing British accent during her performance of We Are Never Ever Getting Back Together, but he's being urged to not rise to the bait!
Article continues below advertisement
"With the media circus that surrounded Harry and Taylor when they were together, the boys were a little miffed that it distracted fans from the band and what they were all about.
"Of course, when it didn't work out, there was a sense of relief because they knew that, along with Harry, they could all move on.
"It's only Taylor now that seems to clinging on to their failed relationship, and Harry has been told to keep his thoughts private," the source reveals.
Article continues below advertisement
As RadarOnline.com previously reported, Taylor flew to London at the end of January for a face-to-face showdown with Harry because she believed he cheated on her.
"Taylor has serious trust issues, something that is being severely tested dating Harry," a source told RadarOnline.com at the time.
"Harry courts a lot of attention. He's a big flirt and loves the ladies. Taylor doesn't like that and finds it very difficult to trust him.
"She thought he was cheating on her when they were apart over the holidays so she ended it, telling him she couldn't be in a relationship with someone like that."