Taylor Swift & Ed Sheeran Spend The Night Together At London Hotel, Claims Report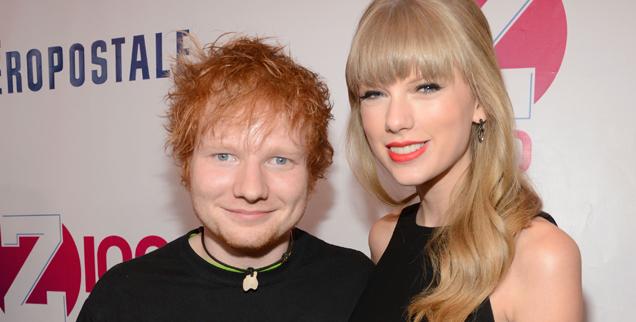 Has Taylor Swift found her next boyfriend -- and possibly the next subject of a future breakup revenge song?
The I Knew You Were Trouble singer, 23, spent the most of the night February 19 with cutie pie redheaded British singer/songwriter Ed Sheeran,
according to E! News.
An eyewitness tells E! News that the night before the 2013 Brit Awards, the Lego House singer, who collaborated with Swift on her Red album, arrived at the Dear John singer's hotel and "stayed in (her) room, just the two of them, until around 4 a.m."
Article continues below advertisement
E! also says when the up-and-coming Sheeran left the hotel, he looked "very happy," according to its source.
Upon leaving the hotel, Swift apparently had her driver take Sheeran away in the car she had used earlier in the day.
"He looked very pleased with himself," the witness told E! The network claims another source said that the pair had "briefly dated last spring. He thinks she is really cute, and they have a great chemistry together."
Although widely known in the UK, Sheeran began to attract widespread attention in the United States in 2012. He made a guest appearance on Swift's fourth album Red and wrote songs for the British boy band One Direction. (Interestingly, he's also friends with Swift's ex, Harry Styles -- the presumed target of her I Knew You Were Trouble song.)
Sheeran's The A Team was nominated for Song of the Year at the 2013 Grammy Awards, and he sang a duet with Elton John during the highly-watched show. Oscar winning actor/singer Jamie Foxx is also said to be a fan of his.
On Sheeran's birthday on February 17, Taylor tweeted, "So. One of my favorite human beings on the planet turns 22 today. I hope @edsheeran has the most perfect show in LA tonight! HAPPY BDAYYYY."
The following day, Ed tweeted Taylor back, borrowing a lyric from her song 22. He wrote, " I don't know about you, but I'm feeling pretty damn 22 right about now."
In the coming months, the two will be spending a lot of time together -- he'll spend March through September of 2013 touring North America as the opening act for Swift's Red Tour.