Cruise From Hell Continues - On Land! Bus Breaks Down Carrying Unlucky Stranded Ship Passengers Home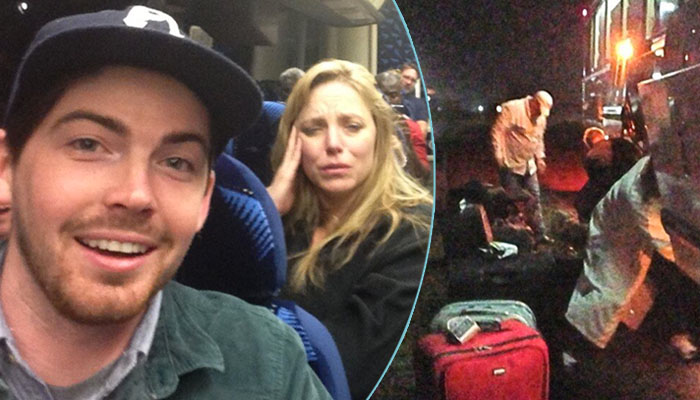 After five days of bobbing around on a "floating petri dish" the Carnival Cruise ship passengers could be forgiven for feeling relieved at finally being back on dry land .
But for many the nightmare continued while they were on a bus taking them from where they docked in Mobile, Alabama back to Houston, Texas where they embarked on the doomed ship.
On Thursday night Carnival hired coaches to transport the 3,131 frustrated passengers back home. But on Friday morning Clark Jones explained that the bus he was on broke down and was stuck on a freeway for an hour.
Article continues below advertisement
Clark told TMJ4's Live at Daybreak : "The bus literally breaks down. It comes to a stop in the middle of the highway.
"We have to pull over to the side. It's dark. All the lights on the bus go out and everyone is not happy."
Fortunately, despite having been stranded on a ship with raw sewage running down the walls and urine-soaked carpets for days on end, Clark saw the funny side of things and even tweeted a photo taken inside the bus.
"My son Jacob and I, when we pulled over and realized the bus was broken, we just started laughing," he said.
"People were giggling. Other people were not happy at all.
"I don't know what you can do about that. Buses break down all the time, probably more often than ships do."
Clark said his long journey was nearly over though as he was going to catch a flight to Houston from New Orleans Airport.
Despite the public relations nightmare of the past week cruise ship bookings don't seem to be down.
Kathy Gerhardt, a spokeswoman for Travel Leaders, a network of independently owned and operated U.S. travel agencies, told The Huffington Post: "As of now, cruise bookings throughout Travel Leaders Group have not been impacted and we are not seeing cancellations."