Exclusive
Dead 'Storage Wars' Star Was High On Set, Showed Photos Of Large Amount Of Drugs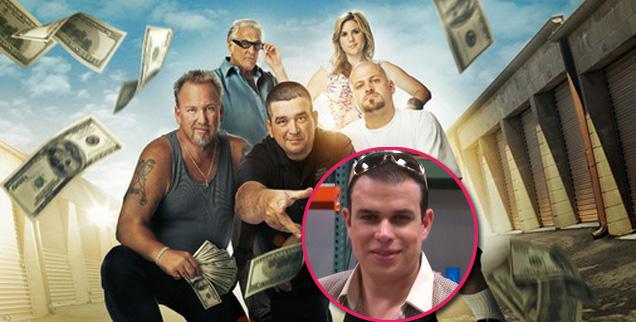 Mark Balelo was frequently high on the set of 'Storage Wars' and even showed at least one person a photograph of an extremely large plastic bag filled with drugs within the past year, RadarOnline.com has learned exclusively.
It's a sad epilogue to the tale of the cast member's final days, which included a drug arrest for meth on Saturday and his sudden death two days later. An autopsy is set for Tuesday and several reports claim Balelo's death was from suicide.
Article continues below advertisement
"He was high as a kite on the set of Storage Wars," one person who knew him told RadarOnline.com exclusively. "He showed a photo on his phone of a huge white plastic bag filled with powder.
"It was obviously drugs but I wasn't sure if it was meth or cocaine.
HOTOS: Reality TV's Top Tragedies
"I saw him high on the set, sweating with his teeth chattering. He was so high he couldn't even talk. I think a lot of people knew he was high. How couldn't they?"
Balelo, 40, was the owner of Balelo Auctions and as RadarOnline.com reported exclusively was previously arrested on three felony drug charges and then served time in jail after a 2011 probation violation.
He gave his final interview to RadarOnline.com two months ago and swore he was off drugs and had been for a long time.
"I have a business to run," he told RadarOnline.com. "Everything that happened back then was a big mistake. I don't do drugs."
Article continues below advertisement
He contradicted himself several times in the interview and now a source close to him reveals the tragic truth: Balelo continued to use drugs even while he was on the hit A&E show.
The bag of white powder that Balelo showed a photograph of was so large that it is doubtful it was all for personal use, the source believes.
"He had connections in Tijuana," the source told RadarOnline.com. "He made it clear he could get large quantities of drugs."
Balelo dismissed his previous drug arrests and convictions in his final interview with RadarOnline.com, claiming he rented a hotel room and his friends were partying.
But his story changed several times during the interview.
"Friends of mine were using a hotel room that was rented in my room. They were partying in there. I didn't do anything wrong. I wasn't even there. It's not a big deal," Balelo said, after first telling RadarOnline.com that his friends had rented a limousine.
VIDEO: JLo Reality TV Show Caught Faking Scenes
His fiancé Elizabeth Metzidis described him as a man with a heart of gold who had left his troubles in the past.
Sadly, she was wrong, as the source told RadarOnline.com that Balelo was using drugs and, according to the source, would have supplied them to the source if asked.
"I didn't want anything to do with it," the source said. "What's sad is that other people around the show knew and they didn't care."