Exclusive
'Storage Wars' Star Found Dead After Drug Arrest - His Final Interview About Previous Arrests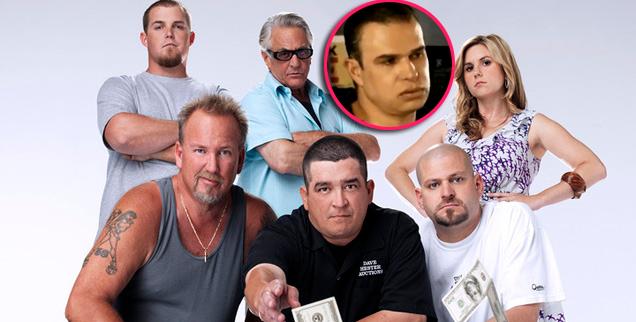 One of the stars of A&E's hit reality TV show Storage Wars was found dead Monday after a weekend drug arrest, RadarOnline.com is reporting.
Mark Balelo, 40, was arrested on charges connected to possession of methamphetamine and had a court date for later this month. Balelo recently spent 45 days in jail stemming from a probation violation of a previous felony drug arrest, as RadarOnline.com reported exclusively.
Article continues below advertisement
He was found dead at his workplace. Balelo's last interview with the media was with RadarOnline.com as the show was mired in controversy after locking out cast member Dave Hester, who is suing the network and production company. Hester is alleging breach of contract and says the show regularly fakes scenes.
Balelo and his fiancé Elizabeth Metzidis spoke to RadarOnline.com two months ago about his previous drug arrest and how he was turning his life around.
"I want people to know that Mark has a heart of gold," Metzidis told RadarOnline.com, adding details of how the semi-regular on the show was committed to raising money for charity and helped her autistic son.
RadarOnline broke the story that Balelo pled guilty to the felony charge of sale or transport of a controlled substance in 2009. At that time he was sentenced to 60 days in jail and given three years probation. But he violated that probation in 2011 and eventually was sent back to jail.
Article continues below advertisement
EXCLUSIVE: Dave Hester Sues Storage Wars, Cast Confronted Execs Over Show Being Faked
On December 14, 2007 he was arrested for three felonies: possession of a controlled substance, possession of a controlled substance with intent to sell and sale or transport of controlled substance. The first two charges were eventually dismissed but on Feb. 9, 2009 he pled guilty to the third charge.
In his final interview, Balelo told RadarOnline.com: "Friends of mine were using a hotel room that was rented in my room. They were partying in there I didn't do anything wrong. I wasn't even there. It's not a big deal.
"I'm just trying to do the best I can."
And his fiancé told RadarOnline.com, in words that now seem to carry more weight, "I want people to know he is a very good person who was just in a bad situation."
But Balelo's account to RadarOnline.com of his previous arrest was often contradictory and now details have emerged that he was in possession of illegal drugs and arrested days before his sudden death.
The Ventura County Star reported that Balelo had a Feb. 19 court date scheduled for his recent arrest and that an autopsy is set for Tuesday.
Article continues below advertisement
In June 2011 police found Balelo transporting a firearm that he found in a storage locker he bought. Later in the year he left the state of California without approval, while still on probation.
He was sentenced to 132 days for probation violation and served 45.
"I have a son who has autism and he's been very active raising money for that cause. At auctions, he'll donate a (storage) lot for the cause," his fiancé told RadarOnline.com previously.
She said he violated probation leaving the state due to a custody battle.
"It's a bad situation and he's trying to get custody of his kids," Elizabeth told RadarOnline.com. "Those charges were in his past."