Sounds Like Teen Spirit! Paris Jackson Shares Her Teenage Angst On Twitter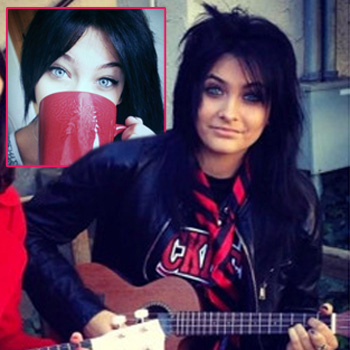 From complaining about her teachers and quoting the lyrics of angsty songs to sharing her broken hearted woes with her closest 1 million Twitter followers, Paris Jackson is just your average teen!
The 14-year-old daughter of Michael Jackson continued to share her seemingly average high school life with her fans this week, tweeting everything from 1990's song lyrics to sending out birthday wishes to the late Kurt Cobain and her brother Prince – and RadarOnline.com has the details.
Article continues below advertisement
"Buckley twitter wars are fun," Paris tweeted about her private school's social media antics on Thursday.
"There are three kinds of people…the drama instigators, the anti-dramas, and the people who sit back with popcorn and observe."
In another status update, she mentions a teacher from the posh academy, who it appears she doesn't get along with.
"Mr. Eleden – thank you for being the voice of reason, Paris," she begins.
"Me – you're welcome Mr. Eleden.
"How many times has that been said? Me – NEVER."
Paris, who seems to be really into 1990s grunge music as well as 1980s punk rock and even chopped her locks to resemble Lita Ford, quoted the band Matchbox 20 in another update on Wednesday.
"I'm not crazy, I'm just a little unwell…jk I'm freaking insane."
That same day, she also tweeted the angsty quote: "Here's to teenage romances and never knowing why they hurt like hell."