Exclusive
Mindy McCready Told Pal Dead Boyfriend Visited Her From The Afterlife 'He Was Here!' – Hear The Heartbreaking Call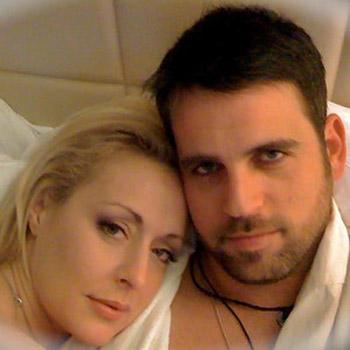 He shot himself just weeks before, but grieving Mindy McCready swore her dead boyfriend David Wilson came back to visit her from the afterlife, and RadarOnline.com has exclusive audio of her making the shocking claim.
Just days before she too committed suicide last Sunday, the country singer told her close friend Danno Hanks the 34-year-old music producer's spirit had come back to their Arkansas home.
Article continues below advertisement
And the mom-of-two said the couple's dogs saw him too!
"You know I haven't told anyone this," she said. "Not one person, but he was here. He was in my room last night.
"The dogs started whimpering and whining and barking and the lights were up a little bit and they were looking at a certain direction and Kissy – which is David's dog, make no mistake he's David's dog – he was here.
"They weren't scared. They were just…they were so excited, maybe. I don't even know what to say.
"They were happy to see him."
Spookily Mindy said the couple had been looking at the film What Dreams May Come roughly a week before David killed himself on January 13.
Starring Robin Williams and Cuba Gooding Jr. the 1998 movie follows the story of a dead man who struggles to reconnect with his wife – who committed suicide – from the afterlife.
After seeing that film – and in light of David's death – Mindy told Danno she was not surprised that she, as she claimed, reconnected with his spirit.
Article continues below advertisement
"I have been expecting him," the Ten Thousand Angels singer said. "We talked about this.
"We talked about this…a week before he died when we watched that movie, What Dreams May Come.
"And I said to him: 'David, if I killed myself…if I ended my life and it was over, would you come find me? Would you find me? Would you go through hell to find me?'
"He said he would go through anything to find me.
"It's so, so weird that that happened the two weeks before."
In the end both David and Mindy ended their own lives just five weeks apart on the porch of their Arkansas home in the same manner – a self-inflicted gunshot wound to the head.
Before she committed suicide the singer shot their dogs.
If you, or anyone you know, is struggling with thoughts of suicide, please immediately seek help -- you can speak with a skilled, trained counselor at a national Suicide Prevention Lifeline crisis center in your area, anytime 24/7 -- call 1-800-273-TALK (8255)