Horrifying Story Of Women Enslaved In Magdalene Laundries: The Outrageous Scandal Rocking Ireland & The Church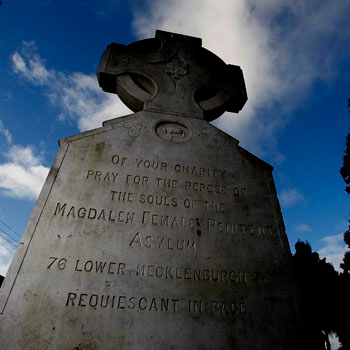 Ireland has finally admitted to its compliance with the dirtiest and most shocking scandal of the twentieth century to ever rock its shores -- in which an estimated 30,000 women were forcibly enslaved and made to work grueling hours under unbelievable poor conditions for no pay, in Church-run institutions called 'Magdalene laundries.'
Adding even further to the outrage, the majority of the unfortunate girls, forced into to a lifetime of hard labor, were not actually guilty of any crime — rather, they were young, unmarried mothers, often the victims of rape or incest; those ruled by local Priests to look "too sexy" or "attractive" for their own good; or those deemed to be lacking in moral fiber by the Catholic Church.
Article continues below advertisement
On Tuesday, a bombshell report from the Irish senator Martin McAleese found that both the state and the Irish police force bore a major responsibility for the woeful women's terrible fate and for failing to protect their rights as workers, the Guardian.co.uk report .
The disturbing free labor industry began in 1922 and lasted in some areas until as late as 1996, with the women, who were nicknamed "Maggies" forced to work grueling hours providing laundry services for major hotels and even the Irish Army, under the ever watchful eye of the supervising nuns.
Upon being dispatched to a laundry, each girl, the vast majority of whom were under 23 years old, was ordered to change their Christian name and drop their last name — later leading to difficulties in identifying the almost 1,000 bodies buried on the laundry grounds, as well making it nearly impossible for the children, that were given up for adoption after the girls were sent away, to later be able to trace their birth mothers.
Article continues below advertisement
McAleese said that he hopes the report, and the Irish government's admittance of compliance, will help "bring healing and peace of mind to all concerned, most especially the women whose lived experience of the Magdalene laundries had a profound and enduring negative effect on their lives."
Following decades of denial and a refusal to address the appalling treatment of these so-called wayward women, the inquiry was finally forced after the release of a 2011 report from the UN committee against torture.
The McAleese report has resulted in demands for prosecution and financial compensation to the still surviving women for their years of unpaid labor.