Exclusive
PETA Outraged By Decision To Bring Knut The Polar Bear Back From The Grave As Creepy 'Living Sculpture'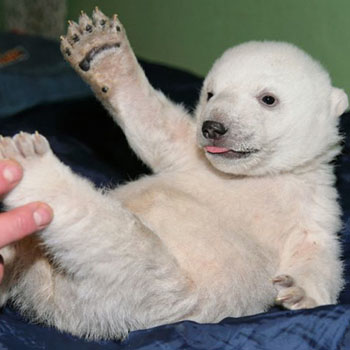 Knut the polar bear won hearts around the world after his furry antics at the Berlin Zoological Gardens catapulted him to international fame, but his ongoing popularity is stopping the late bear's right to rest in peace thanks to a controversial new memorial -- and it has animal rights groups up in arms, RadarOnline.com is exclusively reporting.
Born in 2007, the cub became an instant celebrity -- and he was always happy to perform for the hoards of fans who brought him birthday cakes and stuffed toys. As one of the the most commercially-successful animals in history, Knut also hit it big in Hollywood after appearing on the cover of Vanity Fair with Leonardo DiCaprio as a symbol of UN climate change!
Article continues below advertisement
Even after the young bear tragically drowned in his enclosure following a mysterious seizure in 2011 at age four, the German people couldn't say goodbye and the darling of the zoological world has been brought back to life in a super creepy full-sized model sculpture covered in Knut's own pelt , reported the Guardian.co.uk.
"It's important to make clear we haven't had Knut stuffed," Berlin's natural history museum spokeswoman Gesine Steiner stressed. "Rather, this is a plastic form, true to the original and covered with Knut's very own fur."
Cuteness Overload! Animal Kingdom Odd Couple: Mastiff Adopts Baby Chimp
The museum declined to say what had become of Knut's flesh but said his bones were being preserved separately.
The bizarre dedication has prompted outrage from animal rights groups who never agreed with the way the bear was treated in life -- never mind how he's now being treated in death!
"PETA isn't surprised that the Berlin Zoo is tastelessly making a statue out of Knut's pelt for their own benefit—the same zoo that ignored PETA's numerous pleas to move Knut to a new location when he was under constant stress and being terrorized by his three female companions," spokesperson Wendy Wegner tells RadarOnline.com in an exclusive interview.