No More Dieting For Julianne! Hough 'Embracing Butt, Curvy Legs And Hips'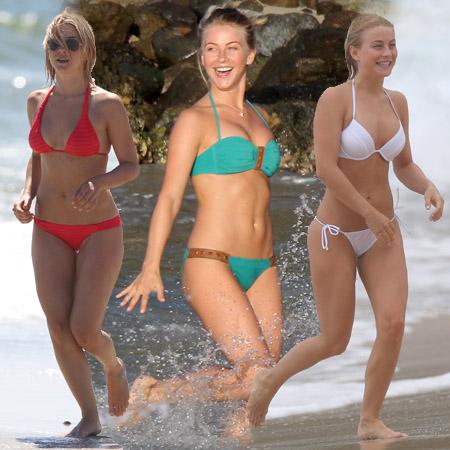 Julianne Hough has no desire to be super skinny!
The Safe Haven star, who packed 20 pounds onto her previously tiny 102 pound frame after retiring from Dancing with the Stars , reveals in the March 2013 issue of SELF that she doesn't miss being super skinny and is actually happier with her new curves – and RadarOnline.com has all the details.
"When I was dancing eight hours a day on DWTS, I was 102 pounds and all muscle. Once I stopped, I gained 20 pounds in a month!" she admitted to the fitness magazine.
Article continues below advertisement
"I want to be healthy, I want to have kids and I want to live a long time. So, I'm eating well, working out and embracing my butt, curvy legs and hips. Besides, if you're too thin, you look older."
Julianne, who has been happily dating American Idol and KIIS FM radio host, Ryan Seacrest since 2010 , also admits that she isn't afraid of indulging in fattening food with her older beau.
"If I'm going to splurge, it starts with breakfast: chilaquiles and, just because I want to taste them, pancakes on the side. Lunch will come, and I'll get fish tacos, maybe guacamole and chips, too. Dinner, I'll say, 'Let's share appetizers,' then we order them all. Now that we've started this whole thing, we have to have dessert."
MORE ON:
Dancing With the Stars
However, their joint eating habits have resulted in more weight gain for her than they have for Seacrest.
"If Ryan gains weight, he'll gain 5 pounds and I'll gain 10," she says. "He'll lose his in eight days and it'll take me two months."
To get Julianne Hough's workout details straight from her trainer, Astrid McGuire , pick up the March 2013 issue of SELF .