Jimmy Kimmel Slams Jay Leno: 'I Don't Believe He Has Actual Feelings!'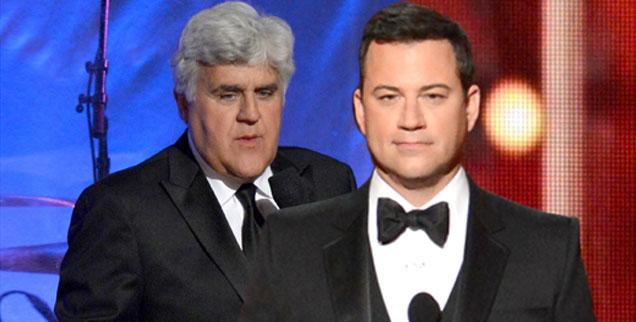 Article continues below advertisement
Kimmel, asked if he felt he was too relentless during the time, said, "I always feel bad if I hurt anybody's feelings, but I don't believe Jay Leno has actual feelings, and he doesn't seem to be that worried about other people's feelings."
Kimmel said he had a lot of fun doing the impersonation, and a much easier time of constructing a dumbed-down monologue a la Leno.
"I have a filter mechanism in my head every night when I put together the monologue for our show: If I can imagine Jay Leno telling a joke, then I won't do it, even if it's a good joke. There are three ways he does a joke, every single time, always with the same rhythm."
Kimmel, 45, said he took on a nasty, confrontational tone in his 10-at-10 segment after he deduced Leno was just using him "to communicate to America that his takeover of The Tonight Show was all just a friendly joke.
"The more I thought about it the madder it made me. I didn't want him to just get away scot-free with what was happening all over again," he said. "Keep in mind this was the second time he'd done this. The first time, he'd elbowed Dave out of the Tonight Show gig, and now he'd done it to Conan.
Article continues below advertisement
"I felt there had to be some kind of comeuppance -- not that I knew I'd do what I did.
He said he was surprised that Leno -- who later said he felt like he'd been sucker punched in the bit -- essentially stood there and took it.
"The smartest thing he could have done after the first two questions would be to say, 'All right, that was 2 @ 10 with Jimmy Kimmel -- we'll be right back!' That he didn't return fire, I still don't understand at all. It was almost as though he leaned into the punches."
All of Jimmy's words for Jay weren't negative however, as the ABC star -- who began competing head-to-head with Leno and David Letterman at 11:35 last month -- credited Johnny Carson's successor as being "a smart politician but also a smart guy.
"I haven't met anyone who knows more than he does about how ratings and the business of late-night television work."
Jimmy Kimmel Live airs weeknights on ABC at 11:35/10:35c.