Exclusive
Didn't She See Shame?! Michael Fassbender Puts The Moves On Jennifer Lawrence -- She's Smitten!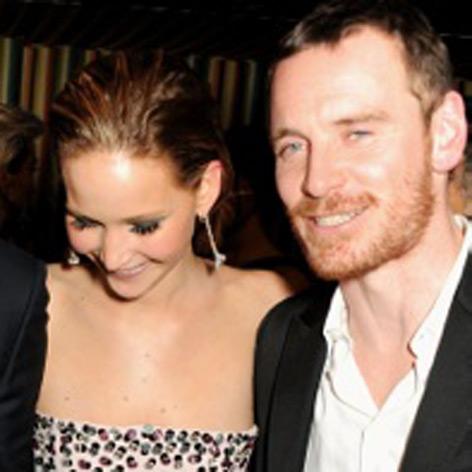 Jennifer Lawrence is a wanted woman right now – just ask Michael Fassbender!
The 35-year-old actor, who earned plaudits for his depiction of a sex addict in the critically-acclaimed Shame, managed to charm Jennifer, 22, at The Weinstein Party after the BAFTA Awards in London on Sunday, RadarOnline.com is exclusively reporting.
And, Jennifer was so smitten by the charming star that the pair is planning a date night soon!
Article continues below advertisement
"Michael and Jennifer were locked in conversation for a long time, he was charming the pants off her," an eyewitness at the party reveals.
"And even when she was talking to other people at the after party, Jennifer couldn't keep her eyes off Michael!
"They initially met on the set of X-Men: First Class a few years back and got on like a house on fire. And they'll be reunited again for the film's sequel when that starts filming in the next few months.
MORE ON:
Jennifer Lawrence
"So, they will be seeing a lot of each other – and it's clear to see there's a strong physical attraction between them.
"When Jennifer wraps up The Hunger Games: Catching Fire she said to Michael she would love to do dinner with him.
"She might want to be wary of her ex-boyfriend Nicholas' feelings though – as he's also going to appear in the X-Men sequel!" the eyewitness says.
Fassbender is back on the market following his recent split from Shame co-star Nicole Beharie in January.
Roughly around the same time, Jennifer broke off her two-year relationship with Warm Bodies star Hoult, 23.
What we wouldn't give to be a fly on the wall when X-Men: Days of Future Past begins filming soon!
Tags: Jennifer Lawrence, Michael Fassbender, X-Men: Days of Future Past, BAFTA Awards, The Weinstein Party, Celebrity Romance, Nicholas Hoult, Exclusive