What Feud? Jessica Chastain Slams Rumors That She Hates Jennifer Lawrence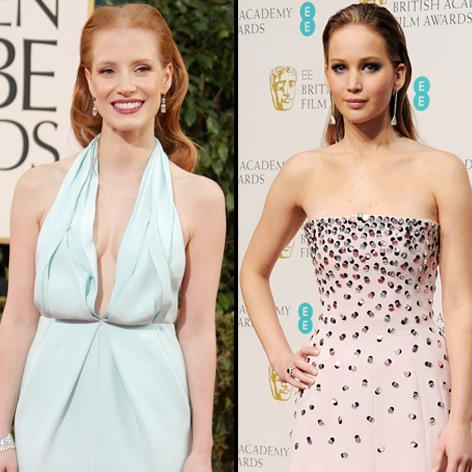 Whether she wins an Oscar for Best Actress in a couple of weeks, Jessica Chastain wants to make one thing clear – she doesn't hate fellow nominee Jennifer Lawrence.
The Zero Dark Thirty star took to her Facebook page on Sunday to slap down rumors that she is "furious" with the Silver Linings Playbook actress.
On Friday, another website wrote that a source told them: "Jessica can't stand the fact that Jennifer is stealing her thunder.
Article continues below advertisement
"It was a real blow to Jessica when Jennifer took the SAG Award.
But the 35-year-old The Help star has hit back at the claims, saying: "I think all of the actresses recognized this year have given incredible performances.
"But more important, they've all shown themselves to be filled with generosity and kindness.
"I've done two photo shoots with Jennifer Lawrence over the years and have found her to be utterly charming and a great talent.
"I've told her how beautiful her film work is."
Jessica went on to say: "And, as we all know: a great year for women in film, is just a great year for film xxjes."
As RadarOnline.com previously reported Jennifer, 22, made a light-hearted joke about Jessica when she hosted Saturday Night Live last month.
During her monologue she said: "Jessica Chastain? More like Jessica ain't winning an Oscar on my watch!"