You're Never Too Old To Jet Set! The Duchess Of Alba Floats Away With Her Boytoy Husband In Thailand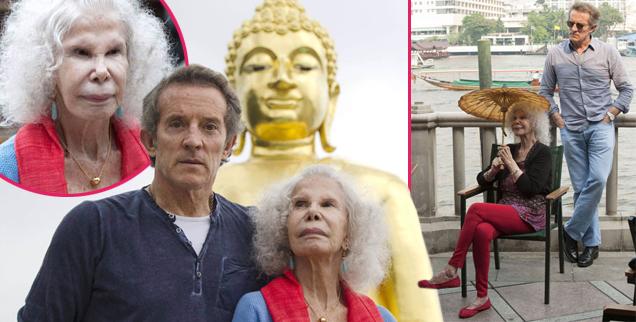 Article continues below advertisement
The loving couple appeared tranquil and relaxed as they watched colorfully clad merchants at the lively markets paddle along congested canals in sturdy canoes laden with fresh fruit and vegetables to sell to shoppers on the banks.
Dressed in bright red pants and a paisley shirt with a parasol protecting her face, the Duchess was a fitting sight amid the rainbow of produce floating by. Along with browsing the traditional market, the happy pair also posed with glittering Buddhist statues and a towering stone elephant.
Since their extravagant marriage in October 2011, the Duchess and her dashing hubby have made the most of her wealth with a series of luxurious European vacations from her hometown of Seville, Spain, to Madrid, the Mediterranean island of Formentera, Paris and Ibiza - but their Asia trip is certainly their most exotic venture yet.
With a fortune estimated between $800 million to $4.7 billion, the Spanish aristocrat - who owns 46 titles and has a fortune estimated between $800 million to $4.7 billion - is a huge celebrity in her homeland, and even rubbed shoulders with Tom Cruise at the Spanish premiere of Mission: Impossible - Ghost Protocol in Madrid last year.