Drew Peterson Sentenced To 38 Years For Murder, Screams, 'I Did Not Kill Kathleen!'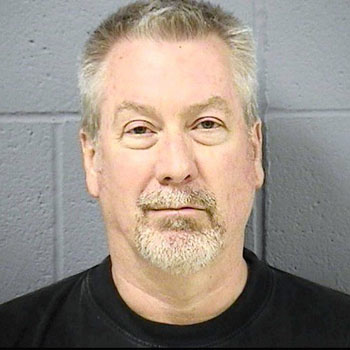 "Mr. Untouchable" proved that he is not above the law after all - as Drew Peterson was sentenced to 38 years in prison Thursday for the murder of his third wife.
Just moments before the lengthy sentence was handed down, the former Chicago police officer, who did not testify during the trial, made an emotional last ditch appeal to the judge, saying, "Good day, my name is Drew Peterson. I hope I don't aggravate the situation here, but I have a lot of things to be said," reported the Chicago Tribune.
Article continues below advertisement
Then he screamed, "I did not kill Kathleen!" before mumbling, "I'm sorry, your honor. I must have been woozy," after a woman in the court heckled him, shouting: "Yes, you did."
Judge Edward Burmila could have given the 58-year-old as much as 60 years in prison but explained that he gave Peterson some consideration for his years as a police officer and his service in the military.
Along with Kathleen Savio, Peterson is also suspected of killing his fourth spouse, Stacy Peterson, who disappeared in 2007 but he has not been charged with any crime to date.
To support his claim of innocence in Kathleen's murder, he claims to be the victim of an unjust and invasive police investigation that ignored or lost evidence that could have shown his innocence, and accused the state police of falsifying reports.
"What they did uncover was rumors, gossip, outrageous lies, and most importantly, unreliable hearsay. Hearsay that pierced three privileges that have stood for centuries," Peterson told the Will County Courtroom in Joliet, Illinois.
Article continues below advertisement
He also argued that Kathleen's divorce attorney Harry Smith, who testified at the trial about a conversation he had with Stacy before she disappeared, "gave up privileged information from both Kathy and Stacy, like it was yesterday's garbage," he said. "Ultimately, it led to my conviction.
"Hearsay is a scary thing. There's no proof. Anything can be said and nobody's accountable for the truth."
"In my experience, in divorce situations everybody lies, and everybody lies under the instruction of their attorneys."
Along with bragging about being "one of the highest decorated officers in the Bolingbrook Police Department," he made a vow to permanently express his disgust at the justice system.
"As soon as I get a chance, I'm going to get a tattoo on my back, from shoulder to shoulder, that says, 'No good deed goes unpunished,'" said Peterson.
"I love Kathy. She was a good mom... She didn't deserve to die," he finally claimed of his wife and victim.
As RadarOnline.com previously reported, Peterson became a suspect in Kathleen's death – which was originally ruled accidental after a fall into a bath tub – when police investigating Stacy's disappearance exhumed her body and a new pathologist report changed the cause of death to drowning by homicide.