So Much For No U.S. Class System! Fascinating Peek At Life Inside America's 'Real Life Downton Abbey'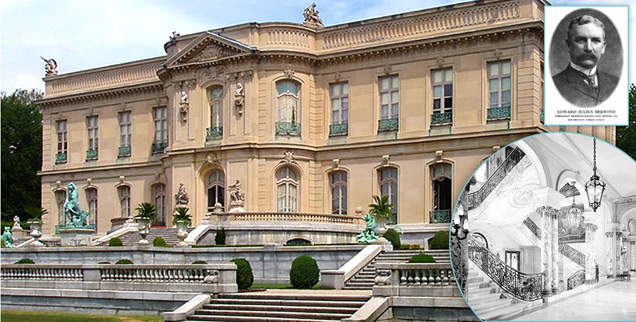 Article continues below advertisement
It hasn't been lived in for more than 50 years but now tours are being offered to give the public an insight into this bygone age.
At the turn-of-the-century Newport was to the rich what The Hamptons is to privileged and wealthy New Yorkers today – a place to escape the city heat and rub elbows with the elite in the summer months.
In fact, Shirley MacLaine's sassy and mega-wealthy Downton character, Martha Levinson -- splits her time between New York and Newport, when not sparring across the pond with the Dowager Countess (played by Maggie Smith)
When Berwind built The Elms it was the first home in the area to be completely electrified and featured such then revolutionary modern appliances as an ice maker and telephone.
Newly discovered photographs and documents provide a fascinating glimpse into what life was like also for the servants who kept the estate running day in and day out. On the tour visitors get to view the staff quarters, the kitchen and the massive boiler room where coal was brought in through a tunnel that runs under the garden wall.
Article continues below advertisement
And, just like its fictional counterpart, The Elms wasn't without its own healthy doses of drama and shocking examples of class inequality -- in 1902 the entire staff of about a dozen maids and footmen were fired for daring to simply request more time off.
A Wrong Turn Gives Chilling Insight Behind The Propaganda Of Pristine North Korea
The Preservation Society of Newport County owns and runs the mansion now, along with several other notable estates in the area. John Tschirch, Director of Museum Affairs for the mansion, did a lot of research on the house and the people who lived and worked there.
He told the Mail Online: "The descendants of the servants are beginning to feel that these houses are part of their family histories too."