Dog-Gone Brilliant! Dogs Can Learn Thousands Of Words, Are Smarter Than You Know, Researcher Proves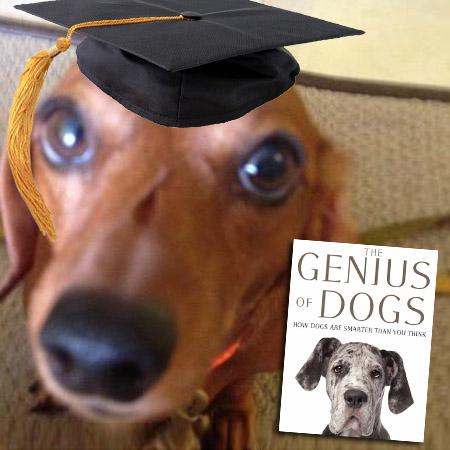 Dog owners know the feeling all too well: Those moments where your beloved pet surprises, amuses or amazes you with a display of common sense, introspection or behavior that shows their intellect.
Now, renown academic Brian Hare, who founded Duke University's Canine Cognition Center, has published a book about what's really going on behind their doggie stares, titled The Genius of Dogs: How Dogs Are Smarter Than You Think.
Article continues below advertisement
Hare, speaking with USA TODAY said that long gazes from canines do serve a purpose on their end, in creating a "bonding response" with its' owner.
"When dogs are looking at us like that, it's creating a physiological change in us," he said. "There's an increase in oxytocin, the hug hormone … it's one of their superhero powers."
Hare laughed off the commonly-held perception that poodles are the smartest dogs as completely subjective.
"What's a better tool?" he asked. "A hammer or a screwdriver? What are they designed for? If they're trying to say that poodles are smarter based on rigorous science, there's nothing that supports or contradicts them."
Hare said dogs do not internalize any guilt when it appears they're slinking away from a possible wrongdoing.
"Based on the existing literature, when dogs are slinking away, it's not that they understand why you're angry that they tore the sofa apart, they're just responding to the fact they're in trouble," he said. "So we can be a little bit easier on them."
Article continues below advertisement
Hare confirmed that dogs can learn a lot more than "sit, stand or heel," as they have the mind power to retain thousands of words, and the expected reactions thereof.
"What's amazing is how the dogs learned the words," he said. "They learned it through inferential reasoning, the same process kids learn words.
"You can put a dog in a room full of toys and put new ones in, and give the new ones odd names. The dog will bring back the toy it's never seen before because it's called by a name he's never heard before."
Hare said that people looking for an edge to stand out in photographs (for purposes of dating, social networking, etc.) should take pictures with their dogs.
"There's very good data on that -- hilarious stories on people trying to get dates -- they got five times more with a dog with them!" he said. "Every politician should be canvassing with a dog. They can kiss all the babies they want, but they should be taking a dog with them.
"If you want to fix Washington, get a dog."
The Genius of Dogs: How Dogs Are Smarter Than You Think is available in bookstores now.