Exclusive
Did Christopher Dorner Buy His Arsenal Of Weapons From LAPD Gun Store? Very Real Possibility, Says Cop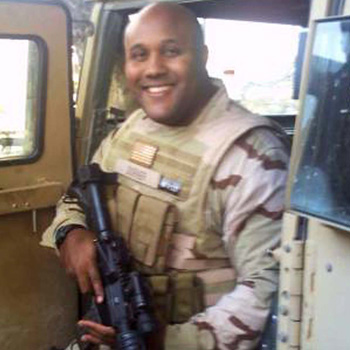 Did Christopher Dorner buy his array of weapons from a gun store at the Los Angeles Police Department Police Academy?
RadarOnline.com has exclusively learned from a veteran cop at the LAPD that could well be the case.
"There is a very real possibility that Dorner bought at least some of his guns at the Los Angeles Police Revolver & Athletic Club, which is the store at the LAPD Police Academy," an officer tells RadarOnline.com.
Article continues below advertisement
"He had an impressive arsenal of weapons, including a sniper rifle, high capacity magazines, and silencers.
"Even though California has some of the toughest gun laws in the country, police officers are allowed under the law to own guns that members of the public can't.
"For instance, there is a limit on the number of rounds any gun can hold, which is 10, but cops can buy guns that can hold up to 17 bullets.
"The public needs to be aware that cops can buy guns at the LAPD Police Academy - and while the vast majority of cops who buy guns there are law abiding citizens - you have people like Dorner who are just ticking time bombs. Changes need to be made in tracking those guns after an officer leaves the department or is fired because they are allowed to keep their guns," the cop says.
The charred remains of the 33-year-old fugitive former LAPD cop who was linked to four killings, including two police officers, was found in a Big Bear, Calif., cabin and was formally identified by dental records.
Article continues below advertisement
Dorner was fired from the LAPD after it was determined that he fabricated claims about a fellow officer kicking a suspect in the head.
"In the days after the Sandy Hook shootings, the gun store at the Academy ran out of AR-15s – the gun that was used in the Aurora and Newtown shootings," the police official continues.
"Now, it is back on order at the store, which is concerning when possibly troubled cops have access to such guns.
MORE ON:
Celebrity Justice
"Cops are allowed to carry their department issued 9 mm handgun when not on duty, so why do so many of my fellow officers feel the need to own more?
"As cops we see a lot of violence, and even the most professional, respected officer can snap. So do we really need to have a gun store at the police academy?"
On the gun store's website, a Springfield LongBeach semi-automatic weapon costs $1249 and a Benelli M4, semi-automatic shotgun will set you back $1489.
Article continues below advertisement
In all, authorities believe the disgruntled ex-cop, who once served as a reservist in the Navy, killed four people in 10 days — to avenge what he called the wrongful termination of his law enforcement career, via the scheming of a corrupt LAPD, according to a rambling manifesto he posted on Facebook.
At the height of the search, more than 200 officers scoured the mountain, while others sifted through more than 1,000 tips that poured in after officials offered a $1 million reward.
A spokesperson for the San Bernardino Sheriff's Department, which has jurisdiction in the investigation said: "I have not been told where or how Dorner got his weapons."