Bono's Battle Of The Bulge Victory! Chaz Sheds Over 40 Pounds, 'I'm On A Really Strict Diet'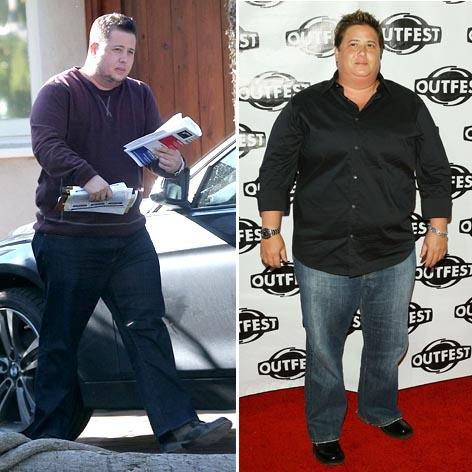 No pain, no loss!
Chaz Bono, who topped the scales at 250 pounds last year and vowed in November to lose 50 of them, showed off his dramatically slimmed down figure recently – and RadarOnline.com has the photos.
The 43-year-old transgender son of music legend Cher has lost more than 40 pounds since vowing his weight loss to Dr. Travis Stork on The Doctors, and has now decided to up the ante to a total of 80 pounds!
Article continues below advertisement
The Dancing with the Stars alum, who is set to reveal his transformation on The Doctors on Wednesday, revealed to People the secret to his weight loss.
"I've been sticking to a really strict diet. It's not any type of starvation thing," he said. "I'm just cutting out a lot of stuff and eating primarily protein and vegetables and fruit."
He also discussed his previous struggles with weight and how his stint on Dancing with the Stars helped him face his weight loss demons.
"That episode was the most uncomfortable I've ever been on television in my life," he revealed. "I had been wanting to lose weight. It was something I had been trying to do and failing at. This opportunity just kind of came in, and my initial reaction was 'absolutely not.' And after that, the more I thought about it, I realized I've been wanting to deal with this issue and somebody's willing to help me do it, so I decided to throw my pride away and get help."
Article continues below advertisement
Initially he started dropping weight by exercising and using the Freshology weight loss food delivery program.
"It hasn't been that long, but when you're a guy and you've got a lot of weight to lose, the initial stuff comes off pretty easily," he explains. "You start to see results and you want to keep going. It's not to say you don't have cravings sometimes, but I'm very happy with how I'm looking and feeling. Especially when I'm traveling or I have to go out to eat or whatever, it's actually kind of easier than I thought to eat healthy, so that's been good."
But now that he is hitting a diet plateau, things are getting a little more difficult.
"It's getting harder," he explains. "I'm just kind of at a little plateau right now, which I think is pretty normal, according to my doctor. The weight was falling off at first, and now it's just coming off slower. The smaller you are, the harder it is to lose weight. The last 10 or 20 lbs. are really hard to get off. I would like to lose more than that. I'm still dropping, but I'm just not dropping like I was in the beginning, which was about 4 lbs. a week."