Exclusive
Camille Grammer: 'Real Housewives' Has Taken A Nasty Turn This Season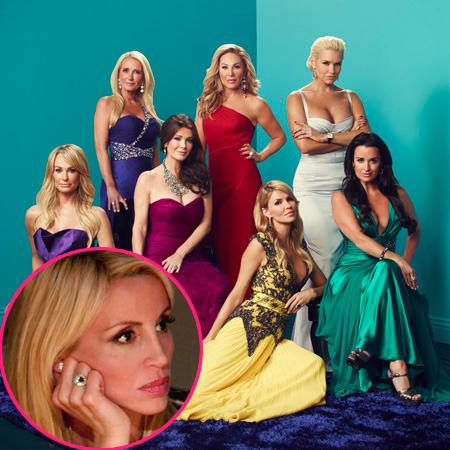 Fighting and drama always has been the core of The Real Housewives of Beverly Hills, but one cast member says the show has taken a wrong turn this season and is noticeably more nasty.
Camille Grammer told RadarOnline.com in an exclusive interview that cast members previously were able to put aside their differences and support each other, but sadly, that is no longer the case and she is deeply saddened by that development.
Article continues below advertisement
"There was always silly fighting on camera during previous seasons on The Real Housewives of Beverly Hills. This season is different though, and I'm deeply saddened about it," Camille told RadarOnline.com. "The one thing that had been different about this franchise as opposed to the others is that in the end, no matter what was going on, we were always there for each other."
Camille says the best example of that was how everyone tried to help Taylor Armstrong after her husband killed himself.
"After Russell's suicide, we all rallied around Taylor, no questions asked." Camille said. "Sadly, that just wouldn't happen now, and that is just awful."
Brandi Glanville and Adrienne Maloof have been viciously fighting all season, including one battle that threatened to spread into legal action when Brandi touched on a family secret. Adrienne has accused Brandi of cozying up to her estranged husband, Dr. Paul Nassif, and having ulterior motives for that maneuver.
Article continues below advertisement
"I believe getting close to Paul is a ploy on Brandi's part to make herself more relevant," Maloof told Life & Style Magazine. "I feel the sudden friendship with him was thought out and vindictive."
Lisa Vanderpump also has issues with Kyle Richards, and has accused Paris Hilton's aunt of never standing up for her.
Gorgeous Camille tells RadarOnline.com she just wants the viciousness between everyone to end. "Yes, there will always be drama." Camille says, "but it usually was over petty issues such as one of the other ladies was wearing a dress that was too tight, or someone was trying very hard to impress and outdo another. It's my hope that we can all come together and move forward in a positive manner.
"Life is just too short for anything else."