Adrienne Maloof: Brandi Glanville Is Trying To Destroy My Family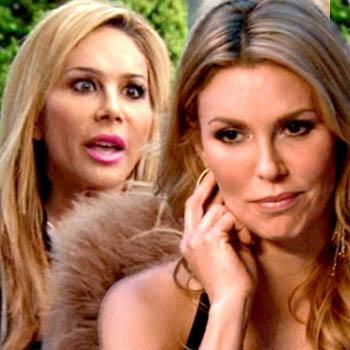 Brandi Glanville multi-tasks when it comes to feuds: In addition to her ongoing tiff with LeAnn Rimes, the beauty has incensed her The Real Housewives of Beverly Hills co-star Adrienne Maloof, who claims the controversial reality star is "trying to destroy her family," an insider says.
"Adrienne is furious," an insider tells US. "She despises Brandi."
!
At the heart of the beef, insiders say, is Brandi's on-air bragging that she knew a huge Maloof family "bombshell."
Article continues below advertisement
Adrienne, who's been adamant her kids would not be featured in the show's storyline, sent Brandi a cease-and-desist letter, as she was hoping to break the news to her children when they were older.
"It basically said shut the f***k up," a pal told the magazine.
Another sore spot, sources say, is that Brandi has buddied up with Adrienne's estranged husband Paul Nassif, during their messy split.
"I run into him occasionally … and we text occasionally," Brandi told us of Paul, adding she thinks he's a "lovely" man.
Adrienne's friend thinks "it's crazy that Paul can befriend Brandi after what she did to his kids," adding that Brandi's only motivation of targeting Adrienne - who brought her on the show in the first place - is keeping her name relevant with the news media and show's producers.
Adrienne is currently dating Rod Stewart's much-younger son Sean.
The Real Housewives of Beverly Hills airs on Bravo Mondays at 9/8c.