Exclusive
'My Butt Implants Nearly Killed Me!' Says Victim Of Botched Surgery Turned Viral Video Star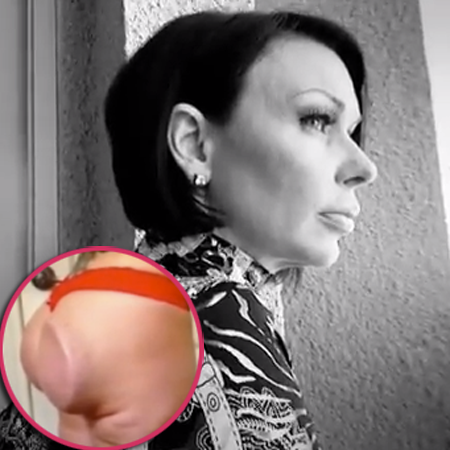 A shocking video showing a woman's butt implants literally flipping upside down went viral when she posted it to warn others of the dangers of fake surgery, and now the victim is speaking out for the first time and only RadarOnline.com has the exclusive clips.
"This woman is revealing how a controversial butt implant surgery went horribly wrong," explained Trisha Goddard in a sneak peek of her new talk show airing in national syndication..
Article continues below advertisement
"This video has been viewed over one million times, and Renee, the woman who posted it is now a YouTube phenomenon. She said her quest for a perfect butt nearly cost her her life."
Renee, who declined to give her last name to the viewers, revealed how she first discovered just how botched her surgery was.
"I was showing my girlfriend how I could reach up under the implant and it just kind of flipped and freaked me out," she said. "I started getting really sick, I couldn't breath."
As RadarOnline.com previously reported, Renee posted the disturbing 20-second clip showing her implant bobbing around in her behind while she told the camera with grave concern, "I don't think an implant's supposed to do that. It shouldn't be able to flip."
Now nearly three months later, she is ready to share her story on-air, and she even brought along the over-sized implants that literally caused a gasp of horror to erupt from the audience when she pulled them out!
Article continues below advertisement
For anyone considering saving a few dollars by going to an unqualified doctor, she has this message: "Love the skin you're in. Please don't go and do this stuff to yourself. If more people would come out and tell their stories then less women would go and do this."
The recent wave of botched implants conducted by medical impostors praying on women on a budget have induced disgusting and dangerous ingredients from cement to super glue and tire sealant, all of which can be deadly.
Watch Renee and other shocking plastic surgery stories, only on Trisha Goddard airing Wednesday, February 13 (check local listings).
radar_embed service=youtube src="https://www.youtube.com/embed/qer0WekyTlU" width="560" height="315"
radar_embed service=youtube src="https://www.youtube.com/embed/IoJXWoX75bw" width="560" height="315"