Bush Family Emails Hacked, Criminal Investigation Underway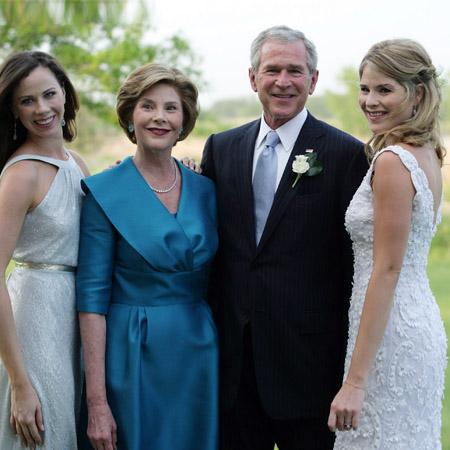 One of America's most famous political families now has something in common with Scarlett Johansson, Mila Kunis, and Selena Gomez – they've been hacked!
Although officials are remaining extremely tight-lipped, they confirm that a criminal investigation has been launched after a hacker accessed private photos and emails sent between members of the Bush family, including both former presidents. Their close friends were also targeted.
Article continues below advertisement
The Smoking Gun website was first to break the news of the major security breach.
A spokesman for former President George H.W. Bush confirmed the story, but he declined to comment further.
"There's a criminal investigation and, as such, there's nothing else we can say," Jim McGrath told The Associated Press Friday.
The FBI in Houston, however, won't comment one way or another.
"We do not confirm or deny the existence of any investigation," Houston FBI spokeswoman Shauna Dunlap said Friday.
The Smoking Gun says the hacker posted the photos with the moniker "Guccifer" in translucent, neon blue print over them. The website quotes "Guccifer" as describing himself as a veteran hacker who is well known to the government.
The hacked material all came from emails sent between 2009 and 2012, according to Smoking Gun, which would be after George W. Bush left the White House.
The Smoking Gun says the hacker got access to: "The AOL account of Dorothy Bush Koch, daughter of George H.W. Bush and sister of George W. Bush. Other breached accounts belong to Willard Heminway, 79, an old friend of the 41st president who lives in Greenwich, Connecticut; CBS sportscaster Jim Nantz, a longtime Bush family friend; former first lady Barbara Bush's brother; and George H.W. Bush's sister-in-law."
The Houston Chronicle reports the hacked photos include "at least one taken of the elder Bush during his recent hospital stay in Houston." And, the hacker "also acquired photographs sent by former President George W. Bush to his sister. The photos were of paintings Bush had been working on, including self-portraits, Smoking Gun reported."
The hacker also reportedly gain access to personal details such as e-mail addresses, phone numbers and mailing addresses for multiple members of the Bush family.