Spencer Pratt & Heidi Montag Fall Victim To Hacker Who Released Intimate Photos Of Her!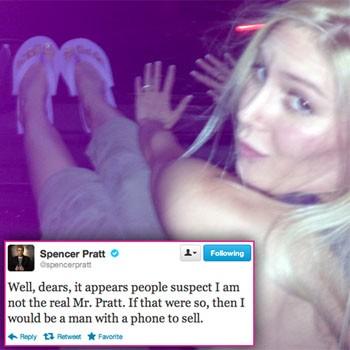 Hacked and attacked! Spencer Pratt is locked away in the Celebrity Big Brother house in London, but it seems like someone has stolen his phone and is tweeting intimate photos of his buxom wife Heidi Montag!
Spencer might be the latest celebrity to fall victim to a hacker and the trickster is trying to possibly sell pictures of Heidi.
"Listen, tweeps, keep calm and carry on. This is perfectly explainable. I have been allowed to tweet as a plot device in the season," his Twitter accounts said, explaining why he was using social media while on a live camera feed on the reality show.
Article continues below advertisement
Alleging to have intimate photos of Heidi, who had a record ten plastic surgeries at once, the account seemed to ask people interested in buying pics to get in touch with him directly.
"Just another taste of what's on my phone. DM me with serious inquires. Isn't Heidi so fit?!:)"
The photos show Heidi showing off her fresh mani/pedi and another where she's posing next to a movie promotion for The Hobbit.
However, Speidi followers cried foul about the husband trying to profit off his wife's photos while on the reality show, and it seems like the hacker tried to continue pretending to be Spencer.
"Surely, the tabloids would have a field day with the contents of my phone, their cup o' tea.... Thanks for the concern. No hacking here. Actually it's good I found my phone. Contacts, pictures, all sorts of things some1 might want," a Tweet from Spencer's account read.
Trust Spencer and Heidi to always have fans following their every move, even while "locked away" on a reality show!