Waking Up In Parks, Blacking Out, Snorting Meth And Insanity: Billie Joe Armstrong Opens Up About His 17-Year Struggle With Alcoholism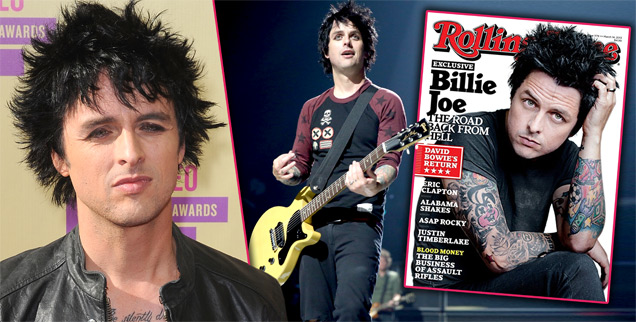 After completing rehab in October 2012, Billie Joe Armstrong is opening up about his nearly two-decade struggle with alcoholism and drug addiction for the first – and only – time.
The Green Day singer, who enrolled in a 30-day treatment program following his infamous onstage breakdown at I Heart Radio in Las Vegas in September 2012, comes cleans and confesses the sordid details and war stories about his brutal battle with substance abuse in a no- holds-barred interview in the new issue of Rolling Stone – and RadarOnline.com has the details.
Article continues below advertisement
Armstrong, who has been clean and sober since his treatment and is ready to get back on the road with his band, admits that his early drug use started before the days of Green Day when he was living with Tre Cool in Berkley and they were engaging in "things like scarification, bad tattoos, drinking booze, snorting methamphetamine."
"We would be at a party at someone's house where bands were playing. Someone would have speed, and we'd do it. Then I would start writing songs when I got home. It wasn't a necessity. The song was already there. The courage was what I needed. The fear was always there, even when we were doing American Idiot."
Armstrong admits that drugs and alcohol had a lot to do with the band's initial image.
"We were total potheads – hence the name Green Day. We've always been drinkers. Our favorite bands were drinkers," he explains.
"I played onstage loaded a lot. I'd have anywhere from two to six beers and a couple of shots before I went onstage, then go and play the gig and drink for the rest of the evening on the bus. Fall asleep, wake up the next day, feel like s**t, do sound-check…it was over and over again. In that way, I was a functioning alcoholic."
Article continues below advertisement
Despite "functioning," he admits that he struggled to get clean for almost two decades, during which he experienced several bottoms that included "waking up in a strange house on a couch," having numerous meltdowns onstage and waking up in parks after blackouts.
"I've been trying to get sober since 1997, right around Nimrod. But I didn't want to be in any programs. Sometimes, being a drunk, you think you can take on the whole world by yourself. This was the last straw. I had no choices anymore."
Though he won't get specific, he attributes his final meltdown to a combination of prescription pills "for anxiety and sleep," paired with heavy drinking.
"I started combing them to a point where I didn't know what I was taking during the day and what I was taking at night. It was just this routine. My backpack sounded like a giant baby rattle from all of the vials inside.
Armstrong, who maintains that he was completely blacked out during the infamous I Heart Radio performance, doesn't like to be reminded about the sordid details of his behavior that night.
Article continues below advertisement
"People will remind me a little bit. Or I'll see a photograph. And it makes me so sick," he divulges.
He also has no desire to watch the footage – which went viral on the internet.
"No. I can't go there. That's my last drink. Which is good – it's documented. Anytime I feel like drinking, I can think about it."
Though Armstrong admits "there is still the obsession for alcohol," as well as "sleepless nights," he is totally committed to sobriety, characterizing his regiment of recovery as "meditation through prayer," as well as meetings and common sense.
For more on Billie Joe Armstrong, pick up the latest issue of Rolling Stone.