Green Day's Billie Joe Armstrong Has Profanity-Laced On Stage Meltdown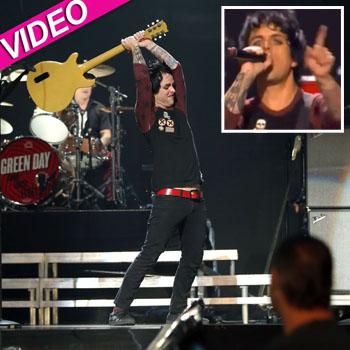 Word to the wise: do not get Billie Joe Armstrong angry!
The Green Day frontman threw a profanity-laced tantrum on stage Saturday at the iHeartRadio festival in Las Vegas.
What got the 21st Century Breakdown singer so irate was that his band's set was cut short by 20 minutes to make room for more mainstream acts like Usher.
Click here for a look at Green Day's style through the years!
When he saw his time that producers had run down his time to one minute, Armstrong stopped performing in the middle of a song, pointed out the clock to the audience, and then went nuts. By one count, he dropped the F-word more than 20 times in that one minute before organizers turned his microphone off.
Article continues below advertisement
"You're going to give me one minute? One f***ing minute?" Armstrong raged. "I've been around since f***king 198 f***ing 8 and you're going to give me one f***ing minute?
"I'm not f***ing Justin Bieber, you motherf***ers."
Just for good measure, Armstrong then smashed his guitar on the stage, with the warning, "We'll be back."
WARNING: Video Contains Graphic Language