Billie Joe Armstrong Shares Story Of His 'Gruesome' Detox From Drugs And Alcohol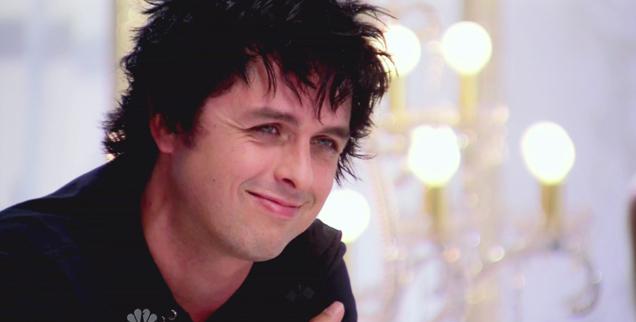 Getting years of drugs and alcohol out of your system isn't easy!
As part of his no holds barred interview about his long-time battle with alcoholism and drug addiction in the new issue of Rolling Stone, Green Day singer Billie Joe Armstrong opens up about his "gruesome" detox process and rehabilitation following his September 2012 onstage breakdown, and RadarOnline.com has the details.
Armstrong, who was guided into rehab by his manager after his onstage blackout at I Heart Radio in Las Vegas went viral, was forced to cancel several months of shows and promotional events scheduled around the release of the band's album Uno.
Article continues below advertisement
"I was going through withdrawal. That was gruesome, laying on the bathroom floor and just feeling like…I didn't realize how much that stuff affected me. And it's not the stuff that is immediately in your system. It goes back to how long you've been using. It was working its way out," the singer, who admits that he was trying to get sober since 1997, explains.
"I was going through so much sh*t. Even in the second week, I was like, 'I don't belong here. I'm not convinced.' The sick part of it is I wanted to get all of the narcotics out of my system so I could start drinking. But that's the insanity of the whole thing. You make excuses. You rationalize. You can take a sh*t in a mailbox -- that doesn't mean it's the right thing to do."
Instead of checking into a facility, Armstrong opted to rehabilitate in the comfort of his home where his wife and two sons were living, but had a nurse that came and made sure he wasn't having "seizures and stuff like that."
"I kept it away from my sons pretty good. My dogs kept looking at me, wondering how I'm doing. They can sense that stuff. I could have gone to a facility, but this way I could be around my loved ones."
Article continues below advertisement
However, Armstrong wasn't sure if his wife, Adrienne, who was never a drinker herself, was going to stay with him or divorce him.
"I think it's safe to say there were some choices she had to make," he explains. "Am I going to get kicked to the curb? I'm sure the thought crossed her mind – that if I didn't get sober, I could potentially lose all of that stuff. I could have lost the band too. I didn't realize how destructive I was. I thought everybody was in on the joke. But I was the joke."
Armstrong, who has remained sober since September, is looking forward to his upcoming tour with the band, but not without taking some precautions to keep himself clean.
"We still have to talk about that," he responds, when asked if there are going to be rules like "no alcohol backstage" while on tour. "Everybody knows it's coming – what's going to keep me from falling off the wagon, but everybody is happy at the same time."
Article continues below advertisement
However, he is still nervous about jumping back into playing gigs, especially as he's never really played gigs sober before.
"Sometimes I'm not sure I'm ready," he admits. "There is still the obsession for alcohol. There's also sleepless nights. But I have to work on it every day. Because I know what goes on out there. I'm hosting this giant party for people. At least 70-75 percent of the people in the audience have been getting a drink on. I've got to watch my step."
Armstrong -- who turned 41 this month -- will resume touring with Green Day on March 10 in Pomona, Calif.
For more on Billie Joe Armstrong, pick up the latest issue of Rolling Stone.