Ultimate Scumbag Scam! Beggar Boasts He Makes $100,000 A Year By Faking Mental & Physical Handicap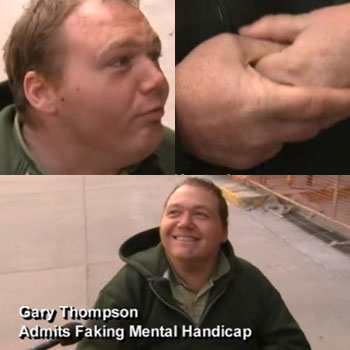 Busted!
A truly horrible scam pulled by a Texas man, who pretends to be mentally and physically handicapped and earns up to $100,000 a year begging, has been revealed by Lex18.com.
Gary Thompson panhandles in Lexington, Kentucky in a wheelchair he claims he needs because he has problems walking, but he was busted by the local news station after they revealed he is fully able to walk and that he doesn't actually talk with the speech impediment he uses when begging to garner more sympathy from kindhearted donators.
Article continues below advertisement
Originally from Texas, Thompson was awarded a whopping $2.4 million in a lawsuit following a 1993 motorcycle accident, and he claims he and his family spent all of the money. He tells his sob story to strangers on the street to elicit donations, and he bragged to LEX 18 that he's quite adept at conning people.
"I appreciate you guys busting me," he told the reporter -- and boasted of the riches he earns from abusing the kindness of strangers: "Yeah, I'm really good at it, really good. I clear about $100,000 dollars a year doing this. Anything from $60,0000 to $100,00 dollars."
Thompson has a degree in speech pathology, which he said gave him the background to imitate a mentally challenged person -- which he reveals he isn't.
"I am normal; it just helps to be mentally handicapped," he admitted.
Above The Law Kim? Kardashian Parks Her Rolls Royce In A Handicap Spot!
A woman who gave Thompson money told LEX 18 that she was shocked by his scam.
"He got me! I don't make that much money, but I reached into my pocket, and gave him everything I had. Six dollars at the time," Judy McKinney said.
Thompson has been charged twice this past year for the wicked con and pleaded guilty both times.