Australian Billionaire Hopes Not To Repeat History When His Planned 'Titanic 2' Sets Sail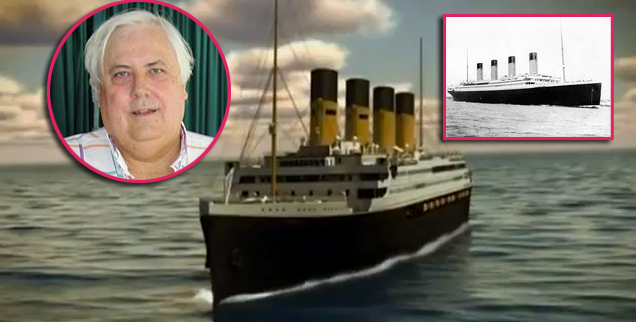 Let's hope this ship has a better maiden voyage than its namesake!
An Australian billionaire is planning to bring the most infamous nautical disaster of all times back to life by launching the Titanic 2 on the high seas, and RadarOnline.com has images of what his dream vessel will look like.
While once again naming a passenger liner the Titanic has been dubbed a terrible idea for more than 100 years after 1,502 people sank to their deaths when the original ship hit an iceberg at 11:40 p.m. on April 14, 1912, real estate magnate Clive Palmer is determined to prove critics wrong.
Article continues below advertisement
The businessman from Down Under announced his plans at the Intrepid Sea, Air and Space Museum in New York, revealing that the replica will look and feel just like the original Titanic -- which made many people at the presentation feel uneasy, ABCNews.com reports.
"The area for passengers will be authentic, with the same design and facilities. But there will be modern things such as air conditioning and other features we are debating -- such as Internet on the ship," Palmer told the news conference, calling it a "tribute to the spirit of the men and women who worked on the original Titanic."
Already 40,000 have expressed interest in a (hopefully less tragic ending) re-enactment of the fateful journey, which will repeat the original course from Southampton, England, to New York, according to Palmer, who doesn't believe that the disastrous end to the first trip will put any aspiring travelers off stepping aboard.
"Anything will sink if you put a hole in it," said the tycoon, who is worth an estimated $5.2 billion.