Alec Baldwin Accused Of Making 'Choke' Remark To Reporter & Hurling Racial Epithet At Black Photographer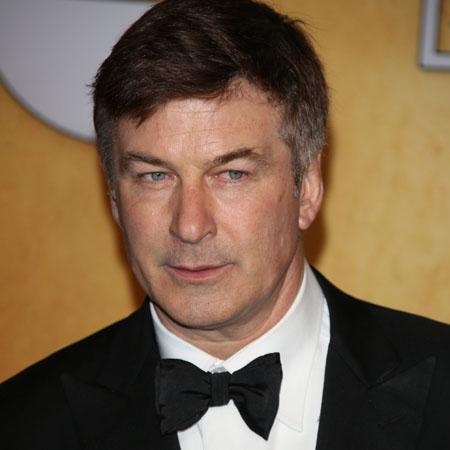 Alec Baldwin is being accused of some extremely serious allegations – telling a reporter he hopes she "chokes to death" and calling a black photographer a racial epithet, as well as a "crack head" and a "drug dealer" during an angry confrontation on a New York street Sunday morning, according to the New York Post.
The notoriously hot-headed actor, 54, had first been approached by a Post reporter while walking his dogs outside of his East Village home around 10:50 a.m. Sunday, according the paper. He was asked for comment on a lawsuit against his wife, yoga instructor Hilaria Thomas, accusing her of negligence. (The couple are expecting their first child together.)
Article continues below advertisement
Baldwin allegedly grabbed the reporter, Tara Palmeri, by her arm and told her, "I want you to choke to death." Palmeri recorded the conversation and played it for police, according to The Post.
The 30 Rock star allegedly then called The Post's staff photographer, G.N. Miller -- a 56-year-old decorated retired detective with the NYPD's Organized Crime Control Bureau -- a "coon, a drug dealer,'' Miller told police in his statement.
The Post reports that Miller showed the actor his identification to prove he's a retired NYPD cop, which Baldwin blew off as being "fake."
Authorities were called to the scene, and Miller and Baldwin both filed harassment claims against each other – each claimed the other got physical during the confrontation.
Moment later, Baldwin, not surprisingly, took to Twitter to rant.
"Thank u 2 NYPD officers who came to my home 2day so that I could file a formal complaint against NY Post "photographer'' who assaulted me,'' he tweeted, according to The Post.
Article continues below advertisement
In another post, Baldwin refb>ed to Miller, for unknown reasons, as "Ralston," writing, "Moments after I tweet about the Post, Ralston, the ex-crackhead 'photographer' shows up at my door w 1 of Murdoch's nieces in tow."
The actor added, "Ralston claims he's ex NYPD!! That can't be!!! Ex NYPD don't become crack head, ex jailhouse paparazzi!" Baldwin eventually removed most of his comments from Twitter.
Baldwin's spokesman, Matthew Hiltzik, slammed the photographer's accusations as being "completely false.''
The Marrying Man star, through Hiltzik, denied making any racist remarks, adding, "That's one of the most outrageous things I've heard in my life.''
The harassment complaint will not result in any charges, but it could continue through the legal system if either party decides to sue the other.