Exclusive
9021-Oh Boy! Adrienne Maloof's Chef Slams Paul Nassif For Filing Blackmail Lawsuit Against Him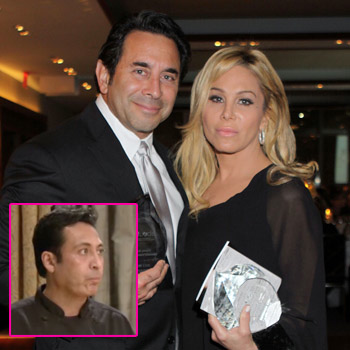 Article continues below advertisement
"He is trying to silence the violence and I'm not going to let him."
Nassif charges in his lawsuit that Guzman published pictures on his Facebook page, "of (Adrienne) Maloof which purportedly depicted bruising on her back. The photographs were accompanied by Guzman's statement: 'Now you know who and what he (Nassif) really is. Adrienne Maloof was pushed to the ground. Punched and beaten. He (Nassif) is a beast.' These statements by Guzman were outrageous and vicious lies."
As RadarOnline.com previously reported, the shocking photos of Adrienne with multiple bruises on her back surfaced on Guzman's Facebook page last year.
Nassif's lawsuit, which was filed in Los Angeles Superior Court, alleges that Bernie sent a text message to Paul that contained "outrageous and vicious lies." The contents of the message are not revealed in the documents.
However, Guzman maintains that he was only trying to help Adrienne, his employer and close friend of many years, who was getting abused, and, he shares with RadarOnline.com what he insists is his text to Nassif in its entirety.
Article continues below advertisement
"Stop threatening me. Have you forgotten I witnessed you beat your wife…kids & animals. I have plenty of family photos…Some not so pretty. Stop telling Gavin nasty things about me. Everyone has moved on…stay away…I LOVE those kids more then you. Enough is enough," Guzman's message allegedly said.
Bernie says he plans to fight the lawsuit, telling RadarOnline.com: "Paul has been trying to keep me quiet for a long time. My mom and my niece were victims of domestic violence and I'm not going to let that happen to anyone else that I care about.
"I'm fighting for all those women out there who can't fight for themselves."
Meanwhile, Nassif's lawsuit seeks an injunction to prevent Guzman from making any further statements about him and is seeking, "punitive damages in an amount sufficient to punish or make an example of Guzman, according to proof at trial," and other costs.