Not Every Star Looks Gorgeous At The Oscars! The Best & Worst Beauty Looks Of The Academy Awards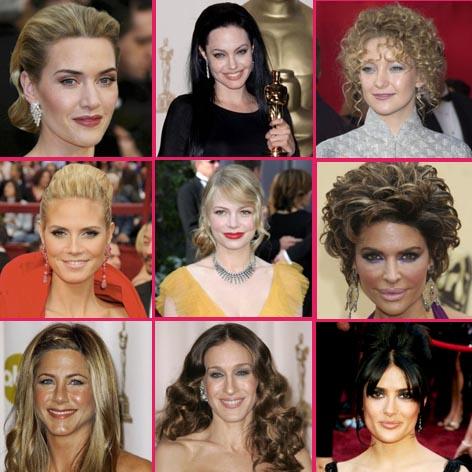 The gowns, heels and bling won't be the only things that fashion critics will be judging on Sunday night at the 2013 Academy Awards!
Though being dressed to impress is usually the top priority of Hollywood's hottest stars at the Oscars, hair and makeup can often make or break a look. Too much eye makeup, the wrong shade of blush, hideously hued lipstick and not-so-hot hair can result in a huge beauty blunder – and even take a star from the Best Dressed list to the Worst! RadarOnline.com has some of the best Academy Award moments in beauty as well as the biggest blunders ever in a special photo feature.
Article continues below advertisement
Michelle Williams rocked perfectly painted, red lips with her marigold Vera Wang gown in 2006, while Kate Hudson looked like she was headed into a western saloon, getting her hair done up in a ringlet curl updo!
In 2009 Jennifer Aniston looked superbly sun-kissed and California fresh in natural shades and Kate Winslet showed off her award-winning beauty rocking a sophisticated and sleek updo.
Angelina Jolie's Addams Family goth look in 1999 had beauty experts in mourning, while Jessica Biel's bed head hair in 2009 had the hairdressers in dis-tress.
What other stars have gone down in Oscar history for their best & worst beauty looks? Find out by clicking here.