Viral Video! Deaf Bulldog Jams To Blues Guitar Music – By Sensing Vibrations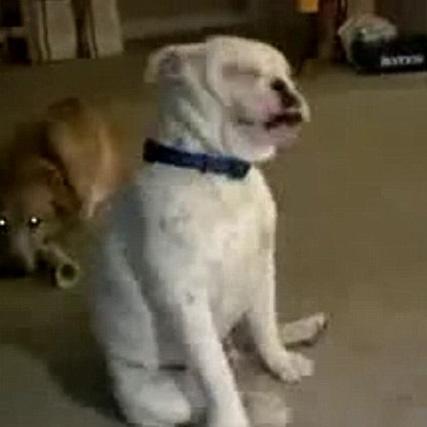 In a touching viral video, Jamynne Bowles' deaf English bulldog appears to be jamming to the sounds of a person playing the blues on an acoustic guitar - perhaps by sensing the vibrations, and RadarOnline.com has the clip.
Bowles of Long Branch, New Jersey taped her beloved pooch on her cell phone when the dog began rocking back-and-forth to the bluesy melodies of a friend's guitar. Another pup, in the background doesn't appear to be feeling the blues, however, and just sits there unimpressed.
Article continues below advertisement
Since Bowles posted the video on Facebook in December, it's been shared more than 42,000 times - and it's growing!
Although some people commented on Facebook that they think the bulldog might be just scratching his bum on the carpet, his movements are surprisingly in sync with the music. Sharing the video, dog-centric website For the Love of the Dog believes that the dog is actually feeling the guitar's vibrations.