Tycoon John McAfee Lived With Harem Of 7 Women In Belize Before Arrest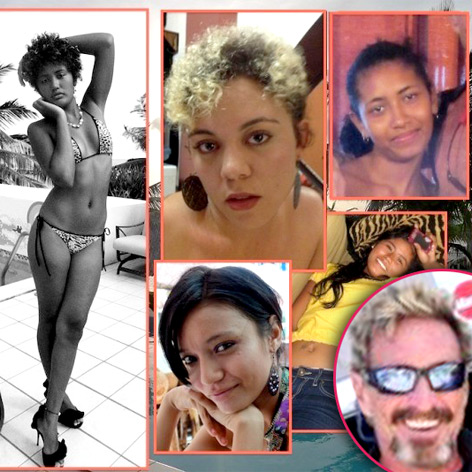 Billionaire anti-virus software pioneer John McAfee had a harem of seven women whom he admitted to hiring, living with him full-time in Belize as part of a "social engineering project," and RadarOnline.com has photos and details straight from the source himself.
John, 67, published a post on his blog Sunday titled "The Girls" in which he showcased his "core seven" - who were found through a local bar owner - and claimed the group was accessing private government information.
Article continues below advertisement
McAfee, known for his bizarre and outrageous behavior, shows he hasn't changed in describing his harem.
"Paz owns Lover's Bar in Orange Walk and is known throughout Belize as a master at locating human resources," John wrote. "I would tell Paz the specifications: level of intelligence, education, cultural refinement, family connection, age, looks, experience, etc., and Paz would locate for me. I would then feel the person out, and if comfortable, explain the project and hire them."
The photos John posted on his blog show an assortment of ladies, sometimes hugging or kissing him, but mostly hanging out in bikinis with each other and lounging around the house.
As RadarOnline.com previously reported, after running from authorities for a month, John was arrested in Guatemala in December and is now living back in Portland, Oregon.
"With the assistance of these girls, it would have taken two years to prime the socially engineered system that I put into place in Belize," he wrote on the blog.
Article continues below advertisement
"I encouraged all of the girls to hang out together and become friends, where possible. It was easier to keep tabs on someone's actions if others were watching, or if a shared camaraderie encouraged the sharing of intimate secrets. All the girls told me the other girls' secrets."
John's bizarre behavior doesn't fail to fascinate and so much so, that Hollywood movie producers have been scrambling to snap up the rights to his life story.